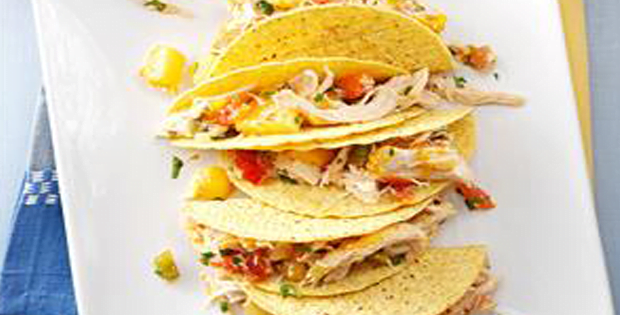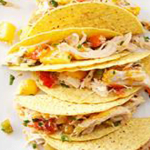 Yield: 16
Prep Time: 25 minutes
Cook Time: 5h 00 min
Print
Slow Cooker Mango-Pineapple Chicken Tacos
A dish that can bring you a tropical atmosphere in your kitchen.
Mangoes might be a bit difficult at time like this but if you do get a hold of some, you should definitely try this recipe out. Tacos are already good as it is but having a variety of tacos flavors to choose from.
And this is one flavor I simply love. I love mangoes and it being in tacos makes just makes it all the merrier. I am not a big fan of pineapples but the combination of the pineapples and the mangoes here is perfect  not  overpowering. They make the perfect blend of sweetness and tanginess.
Check out the recipe below.
Slow Cooker Mango-Pineapple Chicken Tacos
Instructions
In a large bowl, combine the first eight ingredients.
Place chicken in a 6-qt. slow cooker; sprinkle with salt and brown sugar. Top with mango mixture.
Cover and cook on low for 5-6 hours or until chicken is tender.
Remove chicken; cool slightly. Strain cooking juices, reserving mango mixture and 1/2 cup juices. Discard remaining juices.
When cool enough to handle, remove chicken from bones; discard bones.
Shred chicken with two forks. Return chicken and reserved mango mixture and cooking juices to slow cooker; heat through. Serve in taco shells; sprinkle with cilantro.
Freeze option:
Freeze cooled meat mixture in freezer containers. To use, partially thaw in refrigerator overnight. Heat through in a saucepan, stirring occasionally and adding a little broth if necessary.
The plus side to this it gives you a tropical feel from the mango and pineapple. So try it out and tell me what you think. Leave a comment below and rate the recipe as well.
Happy slow cooking!
A very big thank you to tasteofhome.com for this awesome recipe.