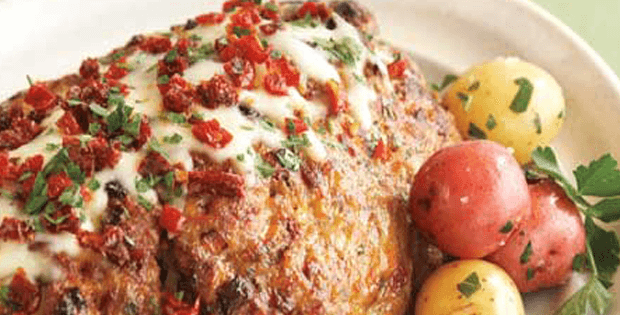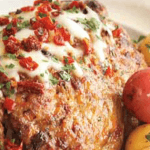 Yield: 8
Prep Time: 20 minutes
Cook Time: 8h 00 min
Print
Slow Cooker Italian Meat Loaf
A classic Italian main dish that will make you go "Mama Mia!"
When you think of meatloaf I'm most of your won't think of Italian at all. Am I right? Well, I am guilty of that. But now, I can highly recommend that if you want to have meatloaf, you have got to try a Slow Cooker Italian Meatloaf.
This recipe stays moist and super tender. The biggest reason is because it bakes right inside your slow cooker. So, all the moist stays in and the long hours of cooking helps with making it tender.
Check out the recipe below.
Ingredients
Instructions
Meatloaf
Line bottom and side of slow cooker with heavy-duty or double thickness foil; set aside.
In bowl, stir bread crumbs with milk; let stand for 10 minutes.
Meanwhile, in skillet, heat oil over medium heat; fry onions, garlic and oregano, stirring occasionally, until golden, about 6 minutes.
In large bowl, whisk eggs. Add sun-dried tomatoes, parsley, Parmesan cheese, salt, pepper, bread crumb mixture and onion mixture. Combine with wooden spoon.
Mix in veal and pork, using hands if necessary.
Place in centre of prepared slow cooker; shape into loaf.
Cover; cook on low until thermometer registers 170°F (75°C), 6 to 8 hours.
Topping
Sprinkle loaf with cheese; sprinkle parsley and sun-dried tomatoes down centre.
Cover; cook on high until cheese is melted, 5 minutes.
Using foil as handles, life out of slow cooker.
Let stand on cutting board for 5 minutes, letting fat drain off onto foil.
Transfer to cutting board and slice.
If you want to keep it juicy make sure not to leave out the moistened crumbs. This basically adds liquid to the meat loaf. Try it out and tell me what you think.
Happy slow cooking!
A very big thank you to foodnetwork.ca for this awesome recipe.