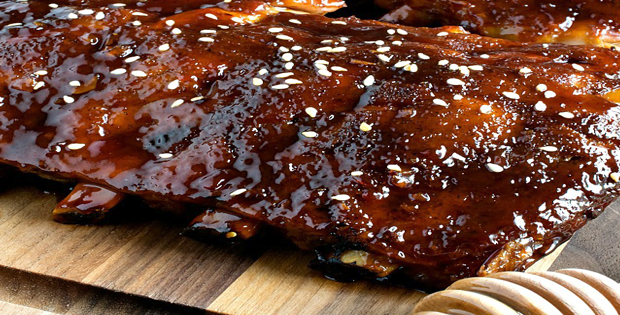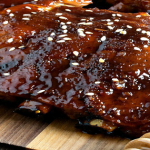 Yield: 6-8
Prep Time: 10 minutes
Cook Time: 6h 00 min
Print
Slow Cooker Honey-Garlic Baby Back Ribs
Ribs with the best honey-garlic sauce you will ever taste.
I think the title and subtitle says it all. If you love ribs, you will love this. If you love honey, you will love this. And if you love garlic, you will definitely love this.
This by far is one of the most delicious dishes I have ever tried and it is all because of the sauce. The sauce takes times and makes use of precise measurements in order to get the perfect blend of flavors that makes this recipe one of a kind.
Slow-cooked honey ribs are a fantastic addition to any meal plan, especially in the spring and summer months when the weather is warm and people spend more time outdoors. These tender and flavorful ribs are perfect for backyard barbecues, family dinners, or any occasion when you want to serve a delicious and crowd-pleasing meal. Here are some combination meal ideas for slow-cooked honey ribs that will make your taste buds sing.
Slow Cooked Honey Ribs and Coleslaw:

 This classic combination is a favorite for a reason. The sweetness of the honey ribs pairs perfectly with the tangy and crunchy coleslaw. Serve with cornbread for a complete meal.

Slow-Cooked Honey Ribs and Grilled Vegetables:

 Grilled vegetables are a perfect side dish for slow-cooked honey ribs. Try grilling some bell peppers, zucchini, and eggplant and serving them alongside the ribs for a healthy and flavorful meal.

Slow-Cooked Honey Ribs and Baked Beans:

 Baked beans are a classic side dish for a barbecue, and they go perfectly with slow-cooked honey ribs. The smoky flavor of the beans pairs well with the sweetness of the ribs, creating a perfect balance of flavors.

Slow-Cooked Honey Ribs and Potato Salad: 

Potato salad is another go to side dish that goes well with barbecue. The creamy and tangy flavors of the potato salad complement the sweet and tender honey ribs.

Slow-Cooked Honey Ribs and Watermelon Salad:

 Watermelon salad is a refreshing and healthy spring and summer side dish that pairs well with slow-cooked honey ribs. The sweetness of the watermelon and the tanginess of the feta cheese create a perfect balance of flavors that will satisfy your tastebuds.

Slow-Cooked Honey Ribs and Mac and Cheese:

 Mac and cheese is the top comfort food and filling side dish that pairs perfectly with slow-cooked honey ribs. The creamy and cheesy flavors of the mac and cheese complement the sweet and smoky flavors of the ribs.

Slow Cooked Honey Ribs and Corn on the Cob:

Fresh Corn on the cob is a must-summer side dish that pairs well with barbecue. Serve it alongside your slow-cooked honey ribs for a simple and delicious meal.
Check out the recipe below.
Slow Cooker Honey-Garlic Baby Back Ribs
Instructions
Cut each rack of ribs in half. In a small bowl, prepare the spice rub by combining the paprika, smoked paprika, garlic powder, mustard powder, ginger, salt, allspice and cayenne pepper until well blended.
Rub the spice mixture all over both sides of each rack of ribs, coating them evenly.
Stand the ribs along the walls of a large oval (or round) slow cooker (with wide ends down and meaty sides facing the exterior).
Cover the slow cooker and cook on low for 6 to 8 hours, until the ribs are tender. (You can tell the ribs are done when the meat starts to separate as you bend the ribs.)
While the ribs are cooking, prepare the sauce by combining the honey, soy sauce, ketchup, garlic and crushed red pepper flakes in a large saucepan.
Over medium-high heat, bring the mixture to a boil and then reduce to a simmer.
Cook, stirring occasionally, for 15 minutes or until the sauce has thickened and reduced by about a third.
Position an oven rack 8 inches below the heating element and preheat the broiler. Line a large, rimmed baking sheet with heavy-duty aluminum foil.
Use tongs and a metal spatula to transfer the ribs to the prepared baking sheet, meaty-side down. Spoon or brush the sauce over the ribs and broil them for 4 minutes.
Carefully turn the ribs over, generously brush them with additional sauce and continue to broil for about 8 minutes, or until the ribs are browned and the sauce is caramelized, brushing with sauce once more about halfway through the cooking time.
Tent the ribs with foil and allow them to rest for 10 minutes before transferring them to a cutting board and slicing. Serve the ribs with leftover sauce.
Although I did mention the use of precise measurements, feel free to adjustments based on your liking. We all have our own preference so crazy and enjoy cooking and eating this dish.
Happy slow cooking!
A very big thank you to afamilyfeast.com for this delicious recipe.