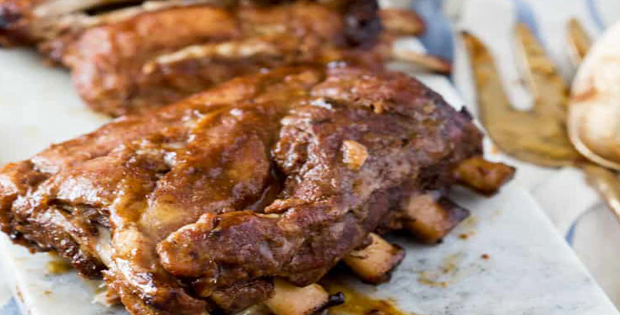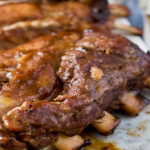 Yield: 6
Prep Time: 5 minutes
Cook Time: 8h 30 min
Print
Slow Cooker Hawaiian Pineapple Ribs
A rib dish that literally falls off the bone and melts in your mouth.
Yes, there are just so many rib recipes that one can get a hold off but just so little time to try them all. So I made it a promise to myself to try at least one every week. And starting this week, you will have a rib recipe.
This recipe will definitely blow your mind away. It has a different twist to the typical rib recipes we are so used to. The pineapple chunks give it a sweet yet tangy flavor and to top it off lemon and lime juice gives it a perfect ending.
Check out the recipe below.
Slow Cooker Hawaiian Pineapple Ribs
Instructions
Preheat oven to 400 degrees
Cut Tender Choice Backribs (2 racks) into 6 even pieces
Open 1 pouch of KC Masterpiece BBQ Sauce Mix & Dry Rub Sweet Honey and rub it all over the ribs, front and back.
Lay ribs on a baking sheet and bake for 15 minutes per side, 30 minutes total. This will help to seal the outsides, and keep them moist and tender while they cook in the slow cooker.
Meanwhile, in a blender, combine pineapple chunks, cola, honey, lemon and lime juice, and the other pouch of KC Masterpiece BBQ Sauce Mix & Dry Rub Sweet Honey, and blend until smooth
Pour 1/3 of the sauce into the bottom of a 5 quart or larger slow cooker
Layer ribs into the slow cooker, and pour another 1/3 of the sauce over the top, stir it a bit to coat the ribs.
Cook on low for 7-8 hours or high 3-4 hours.
Just before service, pour remaining sauce over the top, and brush across the ribs. Squeeze on a little fresh lemon and lime (optional) and serve.
This is one of my family's favorite and I am sure you will be adding this to your favorites list. Try it out and tell me what you think. Leave a comment below and rate the recipe as well.
Happy slow cooking!
A very big thank you eazypeazymealz.com for this awesome dish!