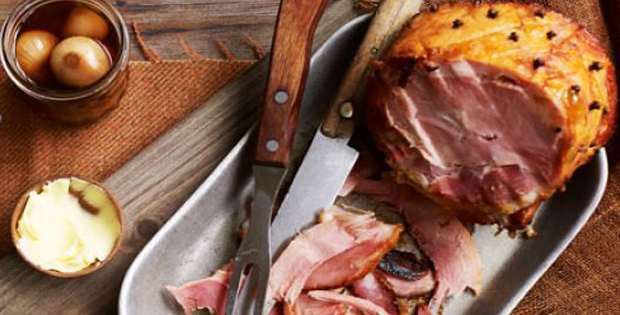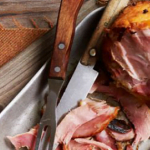 Yield: 6-8
Prep Time: 20 minutes
Cook Time: 7h 00 min
Print
Slow Cooker Ham With Sticky Ginger Glaze
A slow cooker ham dish that is worth preparing in very special occasions.
Find the prefect gammon joint that will easily fit into your slow cooker and I promise you that you will have a ham dish you can definitely brag about. This ham recipe is ideal for parties, snacks or even for weekend.
You can even serve this sliced and with chips if you are aiming for a crowd pleasing finger food. The glaze alone will give your ham the perfect blend of flavors your heart with adore.
Check out the recipe below.
Slow Cooker Ham With Sticky Ginger Glaze
Instructions
Put the onion and 10 cloves in the base of the slow cooker then nestle in the gammon joint.
Pour over the ginger beer then cover and cook on LOW for 7 hours until the gammon is tender, but still holding its shape. You can cool then chill the gammon at this stage if you prefer.
Heat the oven to 200C/180C fan/ gas 6. Carefully remove the skin from the gammon leaving a layer of fat behind.
Score the fat in a diamond pattern with a sharp knife, making sure you don't cut into the meat, then stud the centre of each diamond with cloves.
Mix the mustard and ginger preserve in a bowl, spoon or brush over the gammon then bake for 20 mins until golden and sticky. If roasting from cold you will need to add another 20 mins to the cooking time.
And since you are cooking this in a slow cooker, expect the most tender ham dish you will ever have. If you are looking for a special dish to prepare this December holidays, then this is the perfect recipe for you.
Would you want to add this to your Christmas menu? I certainly will.
Happy slow cooking!
A very huge thank you to bbcgoodfood.com for this festive recipe.