A combination of a slow-cooked and oven-baked dish that will make you drool.
No matter how often I hear people telling me that pineapple is a very healthy fruit that I should add to my diet, I still am not that fond of it. On the other hand, my kids love pineapples. So I kind of make sure that I do have a few pineapple recipes that I could use for our meals.
But I gotta say, this recipe is actually good, even though I am not a fan of pineapples. I kinda like this dish and I even go for seconds whenever I prepare it. The ham may not look like the usual ham appearance we are used to but it taste fantastic.
My hubby actually tried cooking this recipe on his own and he was so proud of what he did. And now he is actually addicted to using the slow cooker for recipes like this one. Of course they have to the type where to throw it all in which makes the preparation all so easy. So try it out and tell me what you think.
Check out the recipe below.
---
Slow Cooker Ham: Pork Loin Roast With Pineapple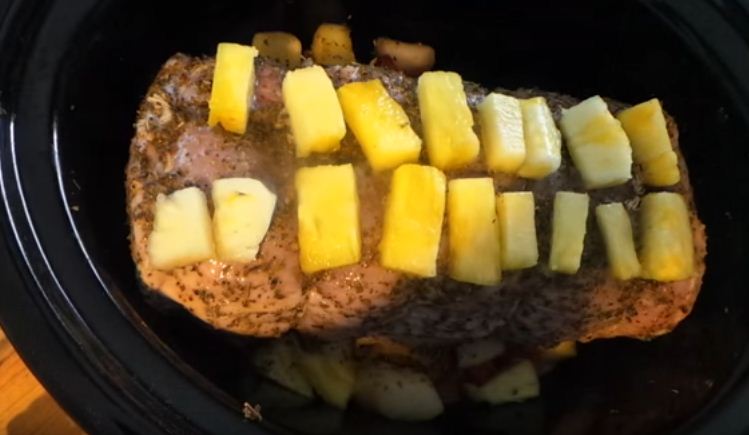 Ingredients:
1/2 tsp lemon rind
1/2 t orange rind
1 roma tomatoes cut into pieces
1 and 1/4 c vidalla onions
9 garlic cloves smashed
1 mushroom cut into 4 pices
1 pear
1/2 c water
1 T rice vinegar
1/4 c orange juice (juice of 1 med. ornge)
1/8 c olive oil
1 c fresh pineapple tidbits under the pork, plus 1/2 c pineapple tidbits to layer on top
1/2 t lemon pepper, 1/2 t italian seasoning, 3 T rubbed sage plus 1 T olive oil as rub for the pork
3.45 lb. 'pastured' pork loin
Instructions:
Put everything in the slow cooker and cook on high for 5 or more hours until it is done.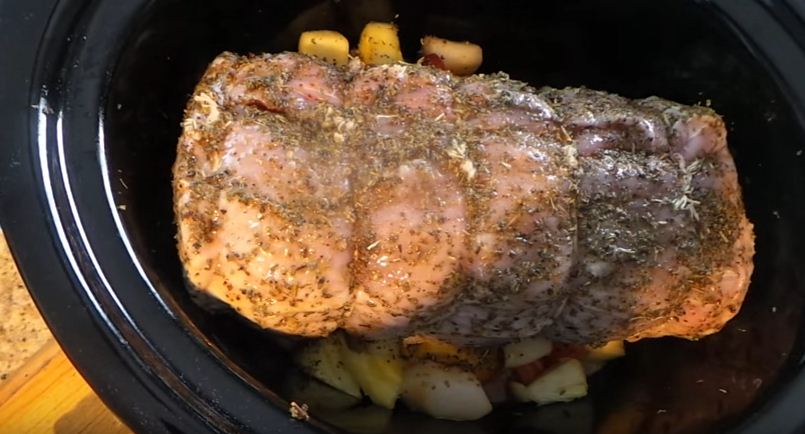 After it's done, take from the slow cooker and  rub with a mixture of 1/4 c soy sauce, 1 T olive oil, and 1/4 c coconut nectar (or sweetener of your choice).
Put in the oven and bake in a 300 degrees F oven  for 15 – 20 min. (and basting sauce slowly until well coated if preferred).
Serve warm with sauce.(make a double batch if needed)
Note:
This pork will not give the usual ham look.
Sauce
1 and /'4 c of liquid from the slow cooker
strained, salt to taste (or soy sauce) plus 1/2 c of any 1 of the following:
– pineapple jam with no added sugar (your portion choice)
– apricot jam with no added sugar (or with a  sweetener of your choice)
Notes:
Cook the sauce until it has the consistency that suits you.
If basting, make enough sauce.
Watch the full video below.