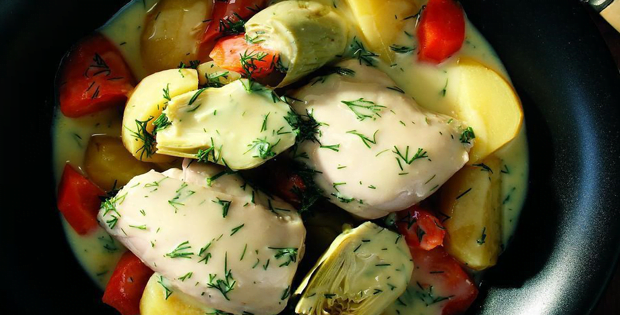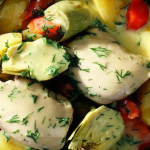 Yield: 6
Prep Time: 40 minutes
Cook Time: 3h 15 min
Print
Slow Cooker Greek Chicken And Vegetable Ragout
Moist and succulent chicken thighs paired with the most flavorful veggies.
This is one chicken recipe you will definitely want to have more than once a week. My family and I are guilty of that. We love how moist the chicken turns out after hours of slow cooking. And it is just very addicting.
Not only is the chicken moist but it also complements the vegetables that go with it. The flavors are just amazing and even kids will want to eat the veggies. And the sauce is simple irresistible. It actually gives the dish a classy touch that passes as a restaurant dish.
Check out the recipe below.
Ingredients
Instructions
Spread carrots and potatoes over the bottom and up the sides of a 4-quart or larger slow cooker. Arrange chicken on top of the vegetables. Bring broth, wine, garlic and salt to a simmer in a medium saucepan over medium-high heat. Pour over the chicken and vegetables.
Cover and cook until the chicken is cooked through and vegetables are tender, 2½ to 3 hours on high or 4 to 4½ hours on low.
Add artichokes to the slow cooker, cover and cook on high for 5 minutes. Meanwhile, whisk egg, egg yolks and lemon juice in a medium bowl.
Transfer the chicken and vegetables to a serving bowl using a slotted spoon. Cover and keep warm. Ladle about ½ cup of the cooking liquid into the egg mixture. Whisk until smooth. Whisk the egg mixture into the remaining cooking liquid in the slow cooker.
Cover and cook, whisking 2 or 3 times, until slightly thickened and sauce reaches 160°F on an instant-read thermometer, 15 to 20 minutes. Stir in dill and pepper. Pour the sauce over the chicken and vegetables and serve.
Make Ahead Tip:
Cover and refrigerate for up to 2 days. Freezing is not recommended. | Prep ahead: Peel and cut potatoes; cover with water. Trim chicken thighs. Combine broth, wine and minced garlic. Refrigerate in separate covered containers for up to 1 day.
For easy cleanup, try a slow-cooker liner. These heat-resistant, disposable liners fit neatly inside the insert and help prevent food from sticking to the bottom and sides of your slow cooker.
Try this recipe out and tell me what you think. Don't forget to leave your thoughts in the comment section below and rate the recipe as well.
Happy slow cooking!
A very big thank you to eatingwell.com for this awesome recipe