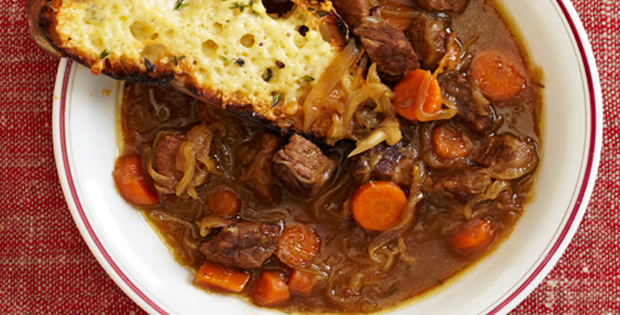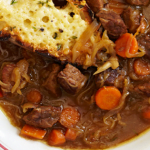 Yield: 4
Prep Time: 10 minutes
Cook Time: 8h 00 min
Print
Slow Cooker French Onion Beef Stew
A classic yet super satisfying and extremely easy-to-prepare soup.
Although there are tons of recipes out there which have been altered due to the times, it is safe to say that nothing beats the classics. And this recipe proves exactly what I mean.
This French onion soup is a classic you can easily whip up in your slow cooker. And it is one of those soup recipes that you fall in love with. Although apple juice is substituted for wine in this recipe and there is some beef in it, the flavors and the output is still as luscious as the original recipe.
Check out the recipe below.
Slow Cooker French Onion Beef Stew
Instructions
Tie a piece of thread or kitchen twine around the thyme sprigs and place them in a 5- to 6-qt slow cooker. Add the chicken broth, apple juice, carrots and onions and mix to combine.
Season the beef with 1/2 tsp each salt and pepper; sprinkle with the flour.
Add the beef and any excess flour to the slow cooker and mix to combine. Cook, covered, until the beef and vegetables are tender, 7 to 8 hours on low or 4 to 5 hours on high.
When the stew has 10 minutes left to cook, heat the broiler. Place the bread on a foil-lined broiler-proof baking sheet.
Sprinkle with the cheese and remaining tsp thyme. Broil until the cheese starts to brown, 1 to 2 minutes. Spoon the stew into bowls and top with the Gruyère toasts.
The beefy flavor can make this quite appealing for those who are not so into onion soup. So it is a great go to dish for small gatherings and it will be a sure winner.
Happy slow cooking!
A very big thank you to countryliving.com for this very delicious soup recipe.