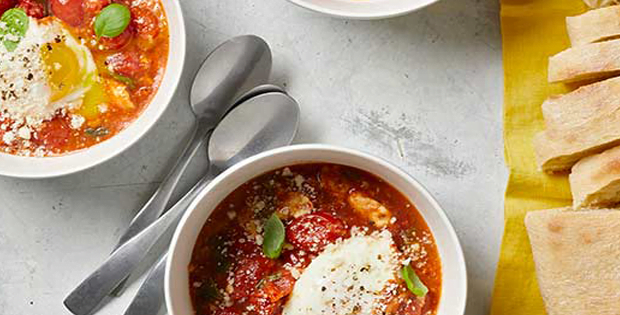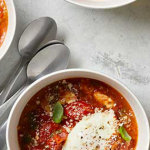 Yield: 6
Prep Time: 15 minutes
Cook Time: 6h 00 min
Print
Slow Cooker Eggs in Spicy Cherry Tomato Marinara
A new interesting way to cook eggs with your slow cooker.
If you are bored with the usual procedures in cooking and serving egg, then you ar ein luck as I will be sharing something quite interesting. This is also a plus for you if you like spicy dishes, which for me is definitely a plus.
This is a very easy egg recipe that includes a good amount of spicy sauce. The other thing I love about it is the fresh cherry tomatoes that give the dish a fancy look to it even if it is just an egg recipe.
Check out the recipe below.
Slow Cooker Eggs in Spicy Cherry Tomato Marinara
Instructions
Coat a 3 1/2- or 4-qt. slow cooker with cooking spray. In prepared cooker combine next seven ingredients (through salt).
Cover and cook on low 5 to 6 hours or high 2 1/2 to 3 hours. If using low, turn to high. Stir in basil.
Break an egg into a custard cup. Make an indentation in tomato mixture and slip egg into indentation.* Repeat with remaining eggs.
Cover and cook 25 to 35 minutes more or until eggs are desired doneness.
If desired, top servings with pancetta.
I love pancettas, and they are great in this dish, so I highly recommend you use some for it. If you have no pancettas around you can opt for bacon too. Try it out and tell me what you think.
Happy slow cooking!
A very big thank you to bhg.com  for this awesome dish recipe.