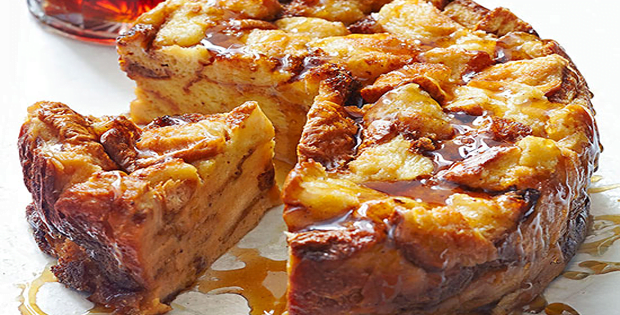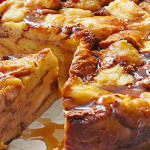 Yield: 8
Prep Time: 20 minutes
Cook Time: 3h 00 min
Print
Slow Cooker Eggnog French Toast Bread Pudding
A breakfast dish turned into a perfect dessert for your dinner table.
Yes, typically when you say French toast, the first thing that comes into your head is breakfast. But personally, I love having this as a dessert or a snack. And this recipe just does the trick.
This rich recipe turns your French toast into the perfect dessert to finish off an amazing meal. It has this gooey texture that makes the dessert all so luscious due to the soak being soaked in eggnog.
Check out the recipe below.
Slow Cooker Eggnog French Toast Bread Pudding
Instructions
Preheat oven to 300 degrees F. Spread bread cubes in two 15x10-inch baking pans. Bake 10 to 15 minutes or until dry, stirring twice. Cool. (Or let bread cubes stand, loosely covered, at room temperature for 8 to 10 hours.)
Line a 3 1/2- or 4-quart oval slow cooker with a disposable slow cooker liner; coat liner with cooking spray. Place bread cubes in prepared cooker.
In a large bowl whisk together the next six ingredients (through salt); pour over bread cubes. Use a large spoon to press bread down slightly to moisten. Cover and chill 4 to 24 hours.
Cover and cook on low about 3 hours or until a knife comes out clean, giving crockery liner a half-turn halfway through cooking, if possible. Turn off cooker. If possible, remove crockery liner from cooker. Let stand, covered, 30 minutes. Serve with maple syrup.
If you are a fan of nutmeg you can always add more of the ground nutmeg to reach the flavor you want. Try it out and tell me what you think by leaving a comment below.
Happy slow cooking!
A huge thank you to bhg.com for this amazing recipe.