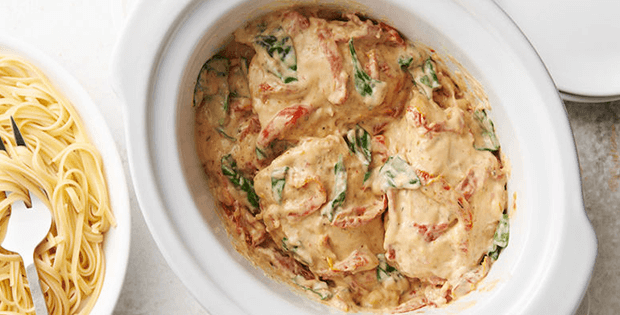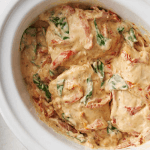 Yield: 4
Prep Time: 15 minutes
Cook Time: 3h 20 min
Print
Slow Cooker Creamy Tuscan Chicken
Creamy, tender and oh so delicious you will definitely go back for seconds.
Yes, this is the nth chicken recipe from me, but I will never get tired of chicken recipes especially with the help of my slow cooker. Now, this recipe is one for the books!
This is one of the creamiest most tender and flavorful chicken recipes I have ever tried. And now my whole family is crazy about this dish. This is why I also serve this during special dinners or lunches.
Check out the recipe below.
Ingredients
Instructions
In 12-inch nonstick skillet, melt butter over medium-high heat.
Add chicken breasts; cook 3 to 5 minutes, turning once, until browned.
In 3 1/2- to 4-quart slow cooker, place chicken breasts.
In medium bowl, mix Alfredo sauce, sundried tomatoes, Parmesan cheese and Italian seasoning until well mixed.
Pour over chicken breasts.
Cover; cook on Low heat setting 3 to 4 hours or until chicken is no longer pink in center (165°F).
Stir in spinach; cook 5 minutes longer. Serve over linguine, if desired.
I hope you enjoy this recipe as much as I did. If you have chicken recipes you want to share, don't hesitate to leave a comment or email me. We might just share it in our site.
Happy slow cooking!
Thank you very much to pillsbury.com for this awesome recipe.