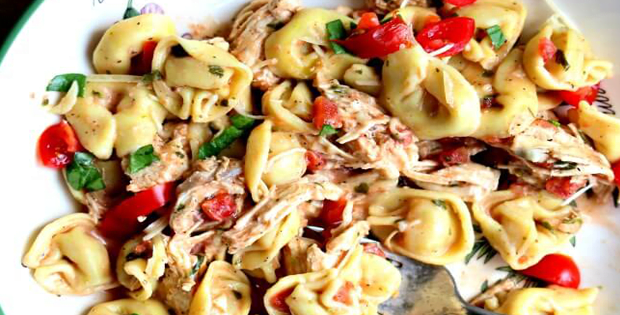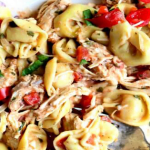 Yield: 4
Prep Time: 15 minutes
Cook Time: 24 minutes
Print
Slow Cooker Creamy Basil Chicken And Tortellini
Chicken breast turned into tender bites swimming in a creamy tomato basil sauce.
Here again is another slow cooker recipe that you will definitely love. And yes, this is also one of those super easy recipes you can make.
This recipe may seem like a bit of work but as long as the chicken breasts is turned into cubes, you are all set.
If you are serving this for your family, you will definitely have a hit up on your sleeves. This recipe is very neutral for the taste buds which makes it super easy to love.
Check out the recipe below.
Slow Cooker Creamy Basil Chicken And Tortellini
Ingredients
Instructions
Add chicken, tomatoes, garlic, Italian seasoning, salt, pepper and tortellini to the slow cooker. Stir a bit.
Cover and cook on high for 2-4 hours, or until chicken and tortellini are cooked through. Each slow cooker cooks differently.
Remove the lid and stir in the half and half, parmesan cheese and basil. Salt and pepper to taste.
The plus side to this is that it can be served as an all in one meal. And this is perfect with green salad to finish the plating off. So try it out and don't forget to rate the recipe and leave your comment below.
Happy slow cooking!
A huge thank you to for 365daysofcrockpot.com for this amazing recipe.