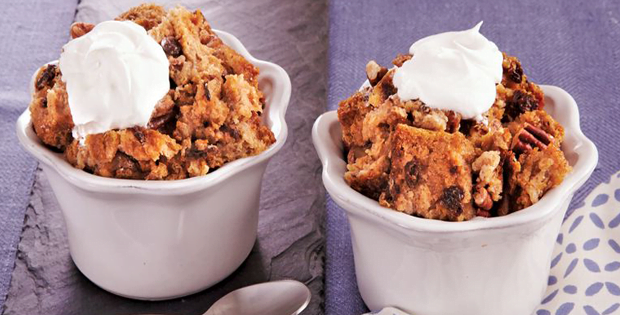 Yield: 8
Prep Time: 10 minutes
Cook Time: 4h 00 min
Print
Slow Cooker Cinnamon-Raisin Bread Pudding
The prefect addition to your dessert table topped with a luscious whipped cream.
Nothing beats home made dessert, especially when it is so moist, super flavorful and so aromatic. And this recipe has those specifications all in one. And my favorite part is the cinnamon flavor and aroma.
I just love cooking this in my slow cooker. I leave it to cook before I do errands or leave the house. And when I get home, the entire house smells like heaven. Don't believe? Try it out and you will definitely want to have this dessert more often than you think you will be having it.
Check out the recipe below.
Slow Cooker Cinnamon-Raisin Bread Pudding
Instructions
In large bowl, beat eggs, sugar, cinnamon and nutmeg with whisk. Stir in milk, whipping cream, vanilla and melted butter. Add bread cubes and pecans; stir gently just until bread is moistened. Cover; refrigerate 1 hour.
Spray 2 1/2-quart soufflé dish with cooking spray. Pour bread mixture into dish; cover with foil. Pour 1 cup water into 6-quart round slow cooker; place cooling rack that fits in slow cooker in bottom of slow cooker. Place soufflé dish on rack.
Cover; cook on High heat setting 3 hours or until sharp knife inserted in center comes out clean. Cool slightly before serving. Serve warm with whipped cream.
To enjoy this meal more, don't forget to top it whipped cream or even some vanilla ice cream. You can even top it with chocolate fudge if you fancy some (which my kids always do).
Happy slow cooking!
A very big thank you to bettycrocker.com for this delicious recipe.