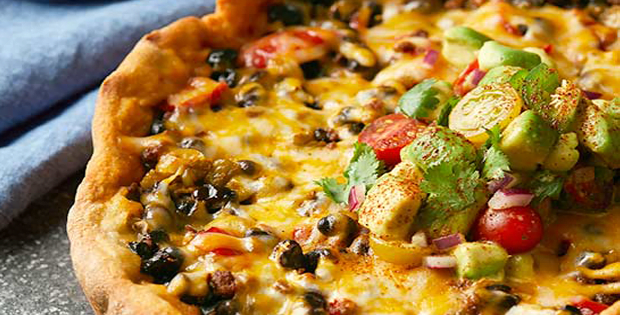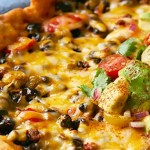 Yield: 6
Prep Time: 60 minutes
Cook Time: 3h 50 min
Print
Slow Cooker Chorizo And Black Bean Pizza Pie
A new touch to the typical pizza pie we all know of.
Having pizza served for regular or even special occasions is most of the time a sure win for those I serve them too. I just make sure that I have at least 2 flavors prepared so that my guests have something to choose from.
Now since we are on the topic of pizzas, here is a pizza recipe your slow cooker can definitely make for you. This recipe is actually a special one indeed. I love how the flavors of the chorizo and black beans blend so well together. And since it is slow cooked, the flavors are just amazingly powerful and delicious.
Check out the recipe below.
Slow Cooker Chorizo And Black Bean Pizza Pie
Instructions
In a large bowl stir together 1 1/4 cups of the flour, the cornmeal, yeast, and salt. Stir in warm water, oil, and honey.
On a lightly floured surface, knead in enough of the remaining flour to make a moderately soft dough that is smooth and elastic (3 to 5 minutes).
Cover and let rest 5 minutes.
Meanwhile, for filling, in a large skillet cook sausage and/or beef and sweet pepper over medium heat until meat is browned.
Drain off fat. Stir in beans and chile peppers.
Line a 6-qt. oval slow cooker with parchment paper, then foil. Coat foil with cooking spray.
On a lightly floured surface, roll dough into a 14x11-inch oval.
Transfer to paper-foil liner in cooker. Fold down top edges of dough to make an even crust that extends 1 to 1 1/2 inches up the sides. Spoon filling into crust.
Cover and cook on high 3 1/2 hours or until crust is golden, giving crockery liner a half-turn halfway through if possible.
Sprinkle with cheese. Cover and cook 10 minutes more. Turn off cooker. If possible, remove crockery liner from cooker.
Let stand, uncovered, 10 minutes before serving.
This recipe may not seem like your typical pizza flavor but I can assure you that it will be one of your favorites. Try it out and tell me what you think. Leave a comment below and rate this recipe too.
Happy slow cooking!
A very big thank you to bhg.com fro this amazing recipe.