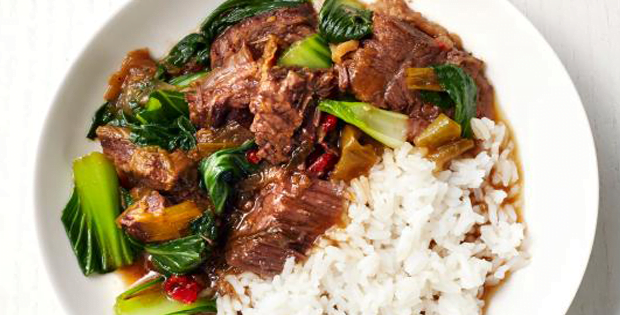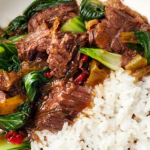 Yield: 4
Prep Time: 25 minutes
Cook Time: 7h 35 min
Print
Slow Cooker Chinese Beef And Bok Choy
A saucy beef and veggie dish perfect with rice on the side.
If you are up for an Asian dishes this week, you will have to try out this super delicious I had just last week. And no, you don't have to worry about all the complicated cooking techniques that chefs usually do.
In a just a few steps you will have your Chinese Beef and Bok Choy dish ready for slow cooking. What I love most about this is how amazing the aroma is once it spreads around the kitchen. It will practically make you drool.
Check out the recipe below.
Slow Cooker Chinese Beef And Bok Choy
Instructions
Combine the leeks, garlic, ginger and jalapeno in a 7-quart slow cooker.
Sprinkle in the flour and toss to coat. Nestle the meat in the vegetable mixture.
Whisk the hoisin sauce, rice wine, soy sauce, brown sugar and 1/3 cup warm water in a bowl; pour over the meat.
Cover and cook on low, 7 1/2 hours.
Remove the meat to a cutting board and thinly slice against the grain; remove and discard the garlic and ginger.
Return the meat to the slow cooker along with the bok choy.
Increase the heat to high and cook, uncovered, until the bok choy wilts, about 5 minutes. Serve with the rice.
This is a great dish if you are looking for a meal to add to your diet plan. It has your meat, your veggies and spices too. If you are not into eating rice, you can also have this on its own.
Happy slow cooking!
A very huge thank you to foodnetwork.com for this delicious dish.