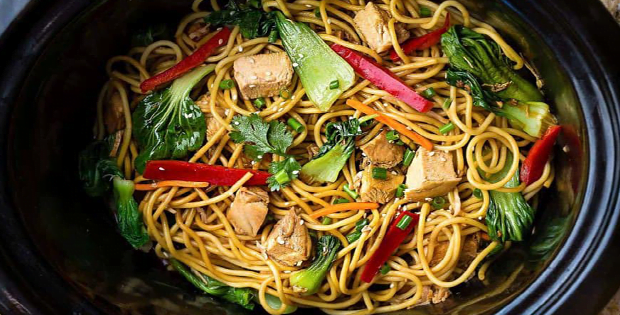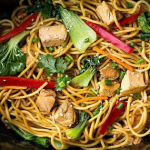 Yield: 3-4
Prep Time: 15 minutes
Cook Time: 3h 30 min
Print
Slow Cooker Chicken Lo Mein Noodles
An awesome slow cooker lunch bowl option for school or work.
This recipe is the perfect combination of delicious, easy, healthy, authentic and on-the-go. If you love having takeout and one of them is Asian cuisine, then you should really try this recipe out.
It is a saucy dish filled with flavors from the veggies and chicken breast slow cooked to perfection. You can always interchange the ingredients as well depending on the availability of the ingredients or depending on you're your cravings.
Check out the recipe below.
Slow Cooker Chicken Lo Mein Noodles
Instructions
Lightly grease 4-5 quart slow cooker with non-stick cooking spray.
Add chicken and season with salt and black pepper. In a medium bowl, whisk together all the ingredients for the sauce and pour over chicken.
Cover and cook for 1 1/2 - 2 hours on high or 3-4 hours on low, stirring once to distribute sauce evenly.
Meanwhile, prepare noodles according to package directions and set aside.
Once chicken is cooked, transfer to cutting board and cut into cubes or shred with two forks.
Toss back in to slow cooker along with bok choy, bell peppers and carrots.
To thicken sauce, whisk together corn starch and water in a small bowl and stir into slow cooker.
Cook on HIGH for an additional 20-30 minutes or until sauce has thickened up.
Give everything a good stir to combine and coat with sauce.
Serve hot and garnish with sesame seeds, if desired.
This versatile this is also a great recipe for busy nights or for planned packed lunches for work or school. So grab the recipe now and get cooking and tell me what you think.
Happy slow cooking!
A huge thank you to lifemadesweeter.com for this awesome recipe.