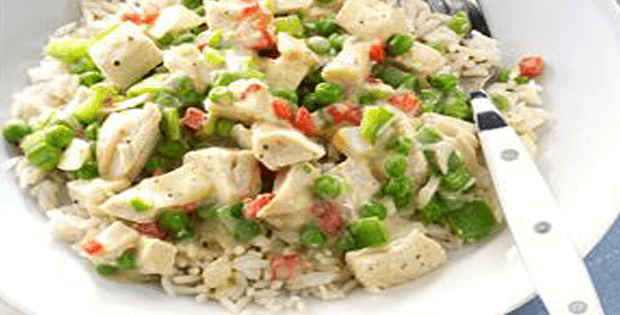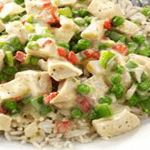 Yield: 6
Prep Time: 10 minutes
Cook Time: 7h 30 min
Print
Slow Cooker Chicken A La King
Tasty tender chicken mixed with the most colorful veggies around.
Here is another dish that will make your kitchen and even your entire home so aromatic that you will go hungry as soon as you entire it. And if you are a chicken fan, then I am sure you will want to try this out right away.
I remember that I would buy this dish at a small restaurant, and that restaurant had one of the best Chicken a la King in our city. But after trying this slow cooker recipe, I am confident to say that I have a great Chicken a la King dish that can compete with any restaurant version.
Check out the recipe below.
Ingredients
Instructions
In a 3-qt. slow cooker, combine soup, flour, pepper and cayenne until smooth.
Stir in chicken, celery, green pepper and onion.
Cover and cook on low for 7-8 hours or until meat is no longer pink.
Stir in peas and pimientos.
Cook 30 minutes longer or until heated through.
Serve with rice.
This tasty chicken dish has the tenderest chicken that will literally make you go wow. And my favorite part is the veggies mixed into the dish. So try it out and tell me what you think.
Happy slow cooking!
A very huge thank you to tasteofhome.com for this amazing dish.