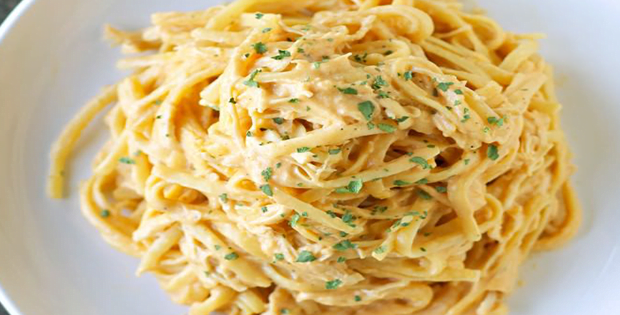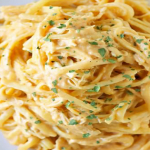 Yield: 4
Prep Time: 30 minutes
Cook Time: 5h 00 min
Print
Slow Cooker Cheesy Buffalo Chicken Pasta
An indulgent creamy pasta dish that will change how you make pasta forever.
In between rice, mashed potatoes and bread, pasta is another dish that my kids will never get tired of. My eldest child loves anything that is super cheesy. So when I found this recipe, I just couldn't help myself from trying it out as soon as I could.
This has totally made its way to my kids' favorite food list. And it actually made number one for my eldest. The creaminess is just to die for and I got addicted myself with it. You can lessen the cheese if you are not much of a cheese lover, but if you feel like you want more, add as much as you want.
Check out the recipe below.
Slow Cooker Cheesy Buffalo Chicken Pasta
Instructions
Place chicken, broth, ¼ cup buffalo sauce, and seasonings in crock
Top with cream cheese and shredded cheese
Cover and cook on high for 4 hours or low for 8
When chicken is fully cooked remove to separate bowl and shred with two forks
Add remaining ¼ cup buffalo sauce to chicken and toss to coat
Set aside chicken
Whisk together corn starch and water and add to crock
Use a whisk and stir until cheese and cream cheese is all combined and smooth
Break noodles in half and place in crock
Top with chicken and cover
Turn crock on high for 30-60 minutes until noodles are fully cooked, stir 3-4 times during cooking
If noodles are not done you can add extra broth or water ¼ cup at a time
Garnish with cilantro if desired and serve immediately
Notes:
This is cooked in a 5-quart crock.
My son would usually request that I add a whole lot more. But I only do it for his own set as I enjoy the original recipe better than the overloading cheese he wants. To each his own right. Hope you enjoy this recipe as much as we did.
A huge thank you to slowcookergourmet.net for this delicious recipe.