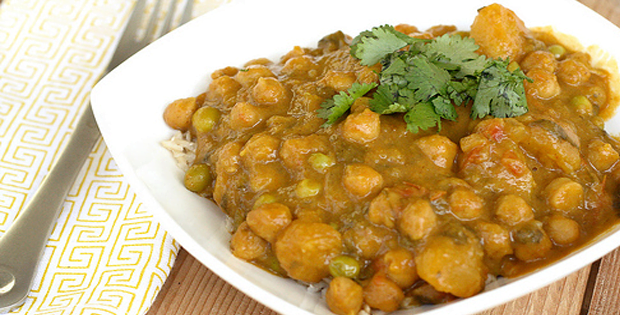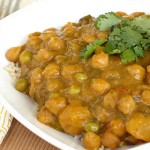 Yield: 8
Prep Time: 30 minutes
Cook Time: 6h 00 min
Print
Slow Cooker Butternut Squash And Chickpea Coconut Curry
Easy and healthy curry dish that will make you go for a second and even for a third round.
The adventures of preparing and having dishes of different cultures are just as exciting as traveling to different countries. I just love trying them out and experimenting with different ingredients.
This recipe I found online may not be as authentic as Indian food but is still as amazing and as flavorful as the real thing. It could definitely be but with use of yellow curry powder and a few Indian spices. You can never go wrong with the right curry powder.
Check out the recipe below.
Slow Cooker Butternut Squash And Chickpea Coconut Curry
Instructions
Rinse and sort through the dry chickpeas.
Cut the skin off the squash, remove seeds and cut into 1 inch square cubes.
Add all of the ingredients to your slow cooker besides the peas and spinach. Cook on high for 6 hours.
About 20-30 minutes before serving add in the fresh peas and spinach, and give it a stir. If your sauce seems to be a bit too thin or watery when it is done cooking, you could make a quick mix of cornstarch and hot water and pour a tablespoon or two of the mixture into the crock pot, allow it to simmer a bit longer. This will thicken it right up.
Serve over brown basmati or jasmine rice topped with fresh cilantro, mint or basil and maybe even some shredded coconut.
This is one of the many reasons I love slow cooking. You can prepare any dish perfectly without having to worry about spending so much time in the kitchen. And the flavors are just amazing with the hours of slow cooking.
Hope you enjoy this recipe. Don't forget to leave a comment and rate the recipe too. Happy slow cooking everyone!
A very big thank you to tasty-yummies.com for this amazing recipe.