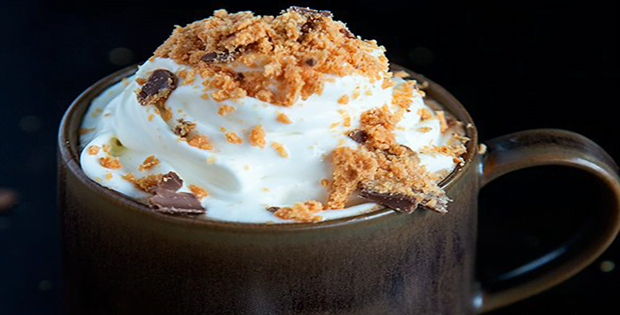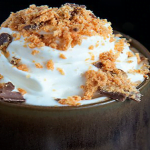 Yield: 4-6
Prep Time: 15 minutes
Cook Time: 2h 30 min
Print
Slow Cooker Butterfinger Hot Chocolate
A slow cooker drink for all the Butterfinger candy bar lovers out there.
A hot chocolate drink is always the best option for me when I am looking for a something sweet and warm on nights like we have now. Or even late afternoon. It is my substitute if I don't have any tea saved around.
But this recipe here is a way more better than regular chocolate. Why? Butterfingers! Yes, this hot chocolate has butterfingers in it. And it is just amazing! It becomes more indulging and yes a bit sinful.
Check out the recipe below.
Slow Cooker Butterfinger Hot Chocolate
Instructions
Add chocolate chips, candy corn, peanut butter and sweetened condensed to the bowl of your slow cooker. Cover and cook on high for 30 minutes, stirring every 10 minutes until chocolate has melted. (The candy corn will be softer but not melted yet).
With a wire whisk, stir in 2 cups of the milk until smooth. Gradually stir in remaining 6 cups of milk.
Cover and cook on high setting for an additional 2 hours until hot and candy corn is mostly melted.
Reduce heat to the keep warm setting and ladle into mugs. Top with whipped cream and crushed up Butterfinger Candy Bars, if desired.
Well, since I am very adventurous with what we prepare in the kitchen, I also tried different candy bars just to know which one is the best. I am still on the 3rd candy bar on our list. I will be sure to post an updated about this once we have made the final verdict.
Hope you enjoy this recipe and happy slow cooking!
A very huge thank you to dineanddish.net for this awesome drink recipe.