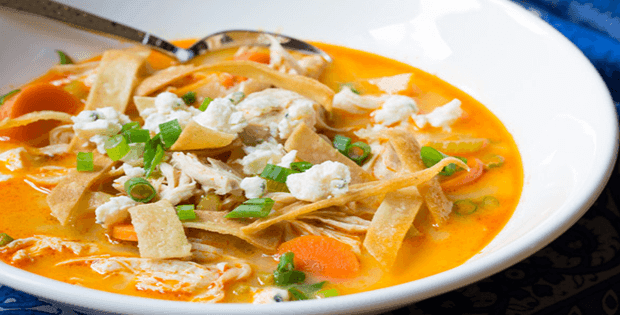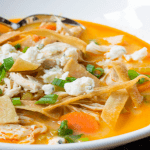 Yield: 4-6
Prep Time: 15 minutes
Cook Time: 4h 20 min
Print
Slow Cooker Buffalo Chicken Soup
A warm soup for the day to give you that comforting meal you need after a long day.
As always a good warm soup for a meal when I get home is always a great thing to end the day. And that won't be complete if I do not have a good soup recipe on hand.
Here is a great option you can consider for those days you need a warm comfy homey meal. And this recipe is literally one which you can throw everything in leave to cook. Thus, making you go home to a meal ready for you to indulge in.
Check out the recipe below.
Ingredients
Instructions
Place the sautéed garlic and onions, carrots, celery, chicken breasts, franks hot sauce, blue cheese dressing, and chicken stock in a crock pot.
Cover and turn on. Cook on high for 2-3 hours, or low for 4-5 hours.
Scoop the Buffalo Chicken Soup into bowls and sprinkle with crunchy tortilla strips, crumbled blue cheese, and green onions.
Tell me what you think of this recipe once you have tried it out. I'd love to know your thoughts. Don't forget to rate the recipe below as well.
Happy slow cooking!
A very huge thank you to aspicyperspective.com for this yummy recipe.