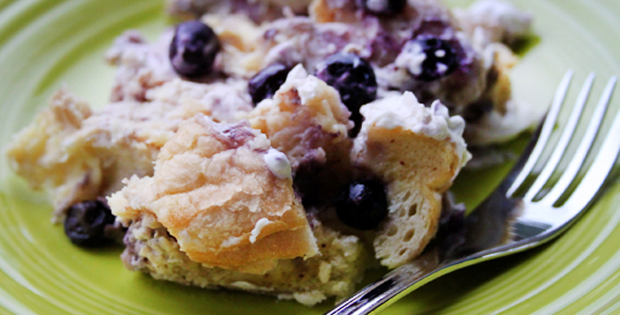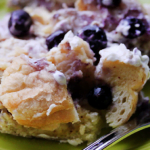 Yield: 6-8
Prep Time: 15 minutes
Cook Time: 3h 00 min
Print
Slow Cooker Blueberry French Toast Breakfast
A heavenly treat that will make Christmas day more exciting.
As fun as Christmas eve is, Christmas day is actually what I am busier with. That usually is the day when every family member visits and looks forward to what you have prepared on the dinning table.
But for my kids, it's the Christmas breakfast that they look forward to aside from opening their gifts of course. And this Christmas breakfast will be extra special with this recipe I am about to share with you.
Check out the recipe below.
Slow Cooker Blueberry French Toast Breakfast
Instructions
In a large bowl, whisk the eggs, yogurt, sour cream, vanilla and cinnamon together. Gradually whisk in milk and maple syrup until blended.
Place half the bread in a greased 5- or 6-quart slow cooker (we used coconut oil to grease pan), layer with half of the blueberries, cream cheese and egg mixture. Repeat layers. Cover and refrigerate overnight.
Remove from fridge about 30 minutes before cooking.
Cover and cook on low for 3-4 hours or until a knife is inserted into French toast and it comes out clean.
Syrup
In a small saucepan combine sugar and constarch; stir in water until smooth.
Add 1/4 cup blueberries.
Bring to a boil; cook and stir until the berries pop, about 3 minutes.
Remove from heat; stire in lemon juice, butter and remaining berries. Serve with french toast!
I know some of you would think that you can always make French toast in a couple of minutes using a regular pan. Trust me, this recipe is worth the preparation and the wait. So try it out and tell me what you think.
Happy slow cooking.
A very big thank you to queenbeecoupons.com for this amazing recipe.