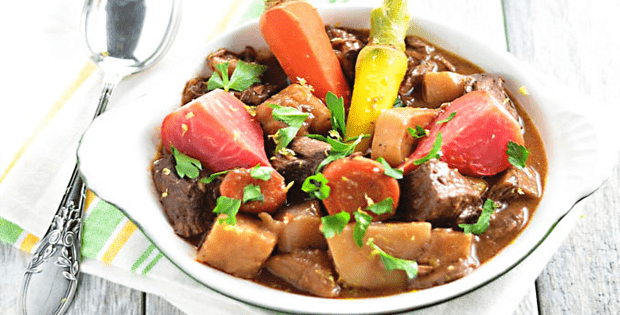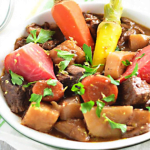 Yield: 4
Prep Time: 15 minutes
Cook Time: 8h 00 min
Print
Slow Cooker Beef With Root Vegetables
A great combination of meat and veggies in a slow cooked dish.
Here is another meaty yet healthy dish that you will enjoy. Like I mentioned before, I strive to find recipes that have the best combination of meat and veggies in order to provide a complete food pyramid package for my family. And this recipe is one of those that have truly helped me.
It gives out a great meat dish for my kids to enjoy plus a healthy touch to it with the root vegetables that are mixed into it. It is definitely the total package that will make the mouths you feed it to completely satisfied.
Check out the recipe below.
Slow Cooker Beef With Root Vegetables
Instructions
Arrange onion, potatoes, carrots, turnip, and rutabaga in bottom of slow cooker. Season beef all over with salt and black pepper. Rub flour all over beef. Place roast on top of vegetables in slow cooker.
Whisk together tomato sauce, brown sugar, chili powder, cumin, mustard powder, and garlic powder. Pour mixture over beef. Cover and cook on LOW for 12 hours or on HIGH for 8 hours.
Serve 1/3 of beef and all of the vegetables with this meal. Shred and refrigerate remaining beef until ready to use.
I'd love to know how your version of this dish turned out. Don't forget to fill me in the details. Comment your experience below and rate the recipe of how much you like it as well.
'Til then, happy slow cooking!
A very big thank you to foodnetwork.com for the amazingly healthy dish.