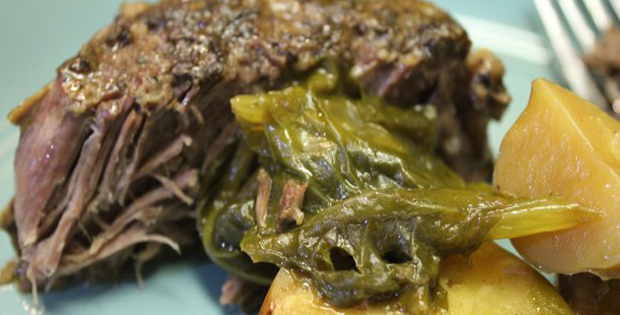 A scrumptious beef roast with the added healthy greens.
Beef Pot Roast might be a very common dish for a lot of people. And I have shared tons of pot roast recipes with a slight change to the ingredients in order to share pot roast dishes that is unique form the other.
And here I am again with another beef pot roast recipe that I cam across online. Another delicious version of Beef Pot Roast that you will surely enjoy.
This specific recipe requires a few herbs and some really delicious recipes. So you better make sure to go to the fresh vegetable section on your next supermarket or farmers' market visit if you are planning to prepare this dish anytime soon. but if you are too busy to run to the market then substitutions work just fine especially if some of the ingredients are not available in your pantry.
This is actually one of the most flavorful Pot Roast versions I have ever tried. I think it is coz of the herbs needed for this recipe. So give it  a shot and tell us what you think about it.
Check out the recipe below.
---
Beef Pot Roast with Turnip Greens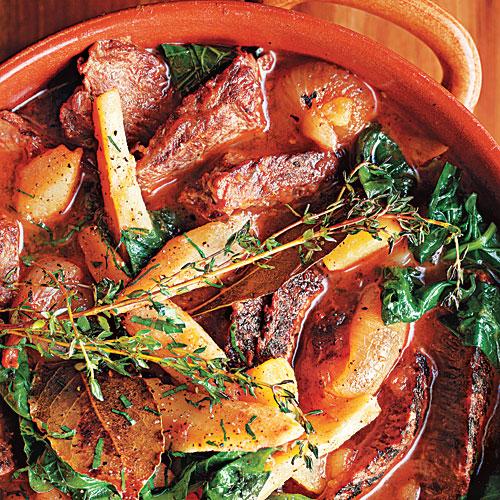 Ingredients:
3.4 ounces all-purpose flour (about 3/4 cup)
1 (3-pound) boneless chuck roast, trimmed
1 teaspoon kosher salt
1/2 teaspoon freshly ground black pepper
1 tablespoon olive oil
1 pound fresh turnip greens, trimmed and coarsely chopped
3 cups (2-inch) diagonally cut parsnips (about 1 pound)
3 cups cubed peeled Yukon gold potatoes (about 1 pound)
2 cups cipollini onions, peeled and quartered
2 tablespoons tomato paste
1 cup dry red wine
1 (14-ounce) can fat-free, lower-sodium beef broth
1 tablespoon black peppercorns
4 thyme sprigs
3 garlic cloves, crushed
2 bay leaves
1 bunch fresh flat-leaf parsley
Thyme sprigs (optional)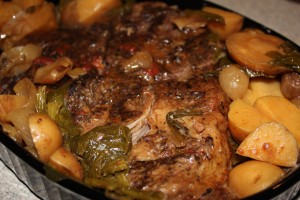 Instructions:
Place flour in a shallow dish. Sprinkle beef evenly with salt and pepper; dredge in flour. Heat a large skillet over medium-high heat. Add oil to pan; swirl to coat. Add beef; sauté 10 minutes, turning to brown on all sides. Place turnip greens in a 6-quart electric slow cooker; top with parsnips, potatoes, and onions. Transfer beef to slow cooker. Add tomato paste to skillet; cook 30 seconds, stirring constantly. Stir in wine and broth; bring to a boil, scraping pan to loosen browned bits. Cook 1 minute, stirring constantly. Pour broth mixture into slow cooker.
Place peppercorns and next 4 ingredients (through parsley) on a double layer of cheesecloth. Gather edges of cheesecloth together; secure with twine. Add cheesecloth bundle to slow cooker. Cover and cook on LOW 8 hours or until beef and vegetables are tender. Discard cheesecloth bundle. Remove roast from slow cooker; slice. Serve with vegetable mixture and cooking liquid. Garnish with thyme sprigs, if desired.
A very big thank you to myrecipes.com for this amazing recipe.
Credits to the following for the images: