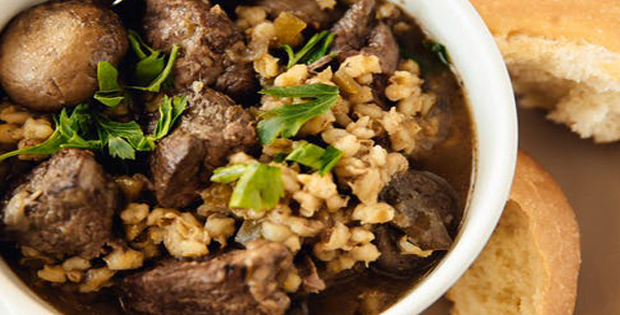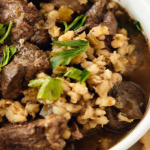 Yield: 6-8
Prep Time: 25 minutes
Cook Time: 4h 15 min
Print
Slow Cooker Beef And Barley Stew With Mushrooms
A beef recipe that will satisfy your beef craving completely.
How big of a fan are you beef and barley? Well, I love meat but cooking beef is always a challenge for me especially when my aim is to have it extra tender. But with the help of the amazing slow cooker, this is not very possible.
The plus side to having beef in the slow cooker aside from the tender results, is how flavorful the beef is due to the long cooking hours. And this recipe alone is living proof of what I just explained.
Check out the recipe below.
Instructions
Film the bottom of a large frying pan or skillet with canola oil and set over medium-high heat until the oil is hot. While the oil is heating, season the meat generously with salt and pepper.
Working in batches, add a single layer of meat to the bottom of the pan. Let it sit for 2 to 3 minutes until the cubes loosen and are seared golden-brown. Flip the cubes and sear the other sides. When all sides are seared, remove the meat to the insert of a slow cooker that holds at least 4 quarts. Sear the remaining meat in batches. If there is any liquid in the pot after the last batch is finished, pour it over the meat.
Place the pan back on the stove.
Heat 1 teaspoon of canola oil in the pan and cook the onions with a pinch of salt until they are translucent and brown around the edges. Add the mushrooms and another pinch of salt, and cook until they have released all the moisture and have turned golden-brown. Add the celery and cook until just softened.
Clear a space in the middle of the vegetables and sauté the garlic until fragrant, about 30 seconds. Stir in the thyme and bay leaf.
Pour the wine into the pot to deglaze, scraping up all the browned bits from the bottom of the pan with a wooden spoon as the wine bubbles. Let the wine reduce down until most of it has evaporated or been absorbed by the vegetables. Transfer everything to the slow cooker.
Add both stocks to the slow cooker and top with enough water to cover the meat and veggies by about 1/2 inch. Cover and cook for 4 hours on low. Stir in the barley, cover again, and cook until the meat and barley are tender, about 2 hours more on low. Skim off any fat if desired, taste, and add salt and pepper as needed.
So if you are craving for beef and you don't want to get disappointed, then you ought to try this recipe immediately. Let me know what you think by leaving a comment below.
Happy slow cooking!
A very big thank you to thekitchn.com for this delicious recipe.