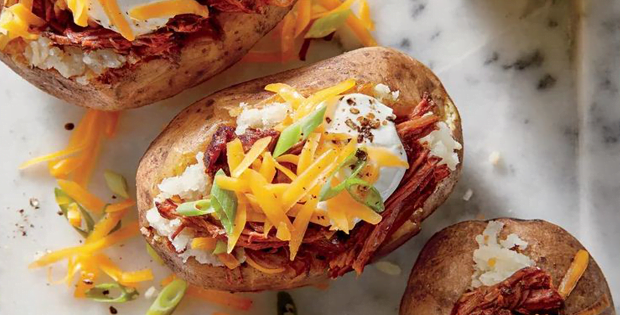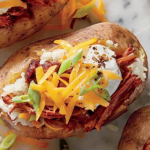 Yield: 6
Prep Time: 15 minutes
Cook Time: 8h 00 min
Print
Slow Cooker BBQ Beef-Stuffed Potatoes
A very convenient and delicious recipe that can serve as a complete meal.
Potatoes are just perfect for any occasion or even any part of your meal. And experimenting on what to do with them for your meal is as exciting as eating the dish itself.
Stuffing potatoes is one of the many options you can go fro with potatoes. And it greatly depends on the type of stuffing you use in order to make it as delightfully appetizing. Just like for example this recipe I am about to share.
Check out the recipe below.
Slow Cooker BBQ Beef-Stuffed Potatoes
Instructions
Combine brown sugar, tomato paste, Worcestershire sauce, chili powder, 1 teaspoon salt, and 3/4 teaspoon pepper in a small bowl; rub generously over roast.
Place red onion slices in bottom of a 5- to 6-quart slow cooker coated with cooking spray; top with roast.
Rub potatoes with oil, remaining 1/4 teaspoon salt, and 1/4 teaspoon pepper. Wrap each potato in parchment paper; arrange on top of roast. Cover and cook on LOW 8 hours or until tender.
Unwrap potatoes; split lengthwise, cutting to but not through the other side. Shred roast with 2 forks, and stir to combine with onion mixture.
Top each potato with 1/2 cup beef mixture, 2 tablespoons cheese, 1 tablespoon sour cream, 2 teaspoons green onions, and 1/4 teaspoon pepper.
If you want to give it more color you can serve it simply steamed broccoli on the side. Simple to prepare but full of flavors and festive to the eyes. Try it out and tell me what you think.
Happy slow cooking!
A very big thank you to cookinglight.com for this amazing dish!