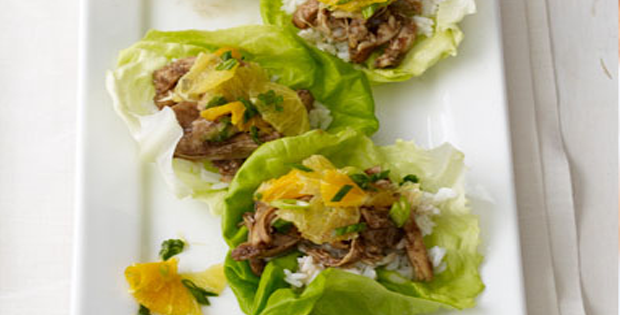 Not only are they so adorable but also super yummy.
Having a slow cooker is just like heaven sent to me. I'm still under the weather and my slow cooker has been a really good friend in the kitchen. I also have my hubby and sons to thank for all the chopping and cleaning up they do after all the preparation.
I'm sure by now, my hubby and sons are very thankful that we do have a slow cooker to do all the cooking without the having to worry if there will be food for lunch or dinner.
A few days ago we wanted to go for something Asian and very light as we kinda got a bit tired of those heavy meals we had lately. So we tried making Balsamic-Ginger Chicken Lettuce Cups. I adore how they turned out. They were just so cute and they were so delicious. The dish actually is very light and healthy. My kids even enjoyed putting them together as much as they enjoyed eating them all up.
Check out the recipe below.
---
Slow Cooker Balsamic-Ginger Chicken Lettuce Cups
Ingredients:
¼ c. brown sugar
¼ c. balsamic vinegar
1 tbsp. low-sodium soy sauce
1 tbsp. grated fresh ginger
2 clove garlic
¼ tsp. crushed red pepper
1½ lb. boneless, skinless chicken thighs
¾ c. long-grain white rice
1 orange
2 scallions
1 small head Boston lettuce
Click on the NEXT button for the rest of the recipe…