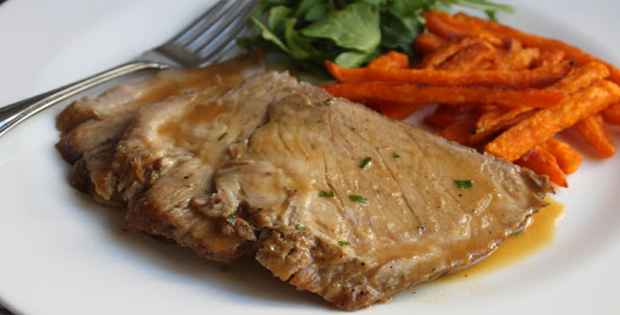 An amazing pork dish with a thick and flavorful sauce.
As much as I love drinking apple cider, it is also a great ingredient to add in a lot of recipes. And if you have a slow cooker, you will certainly need ingredients like apple cider.
Just like the best tasting slow cooked sauce-based dishes, this pork shoulder recipe is one for the books. And I admit that is one of my favorite slow cooker pork dishes ever. The slow cooker can give the pork shoulder that tenderness you are looking for and the apple cider sauce sips into the pork shoulder perfectly. Every bite of it is just a taste of heaven.
You can go for a thick and very flavorful sauce by reducing the cooking liquid, but if you want it more watering than thick, you can serve it as soon as it is cooked. Easy, quick and very satisfying is what you'll get from this dish.
Check out the recipe below.
---
Slow Cooker Apple Cider Braised Pork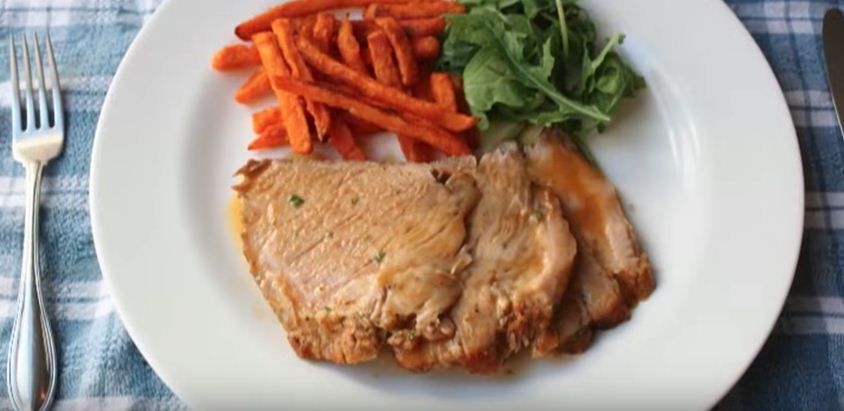 Ingredients:
1 (4 pound) boneless pork shoulder roast
salt and freshly ground black pepper to taste
1 tablespoon vegetable oil
2 shallots, sliced
1 rib celery, chopped
1/2 cup apple cider vinegar
2 1/2 cups apple cider
4 cloves garlic, peeled
1 bay leaf
1 1/2 teaspoons Dijon mustard
1 pinch cayenne pepper, or more to taste
2 tablespoons cold butter, cut into small pieces
1 tablespoon chopped fresh herbs (Italian parsley, sage, or thyme)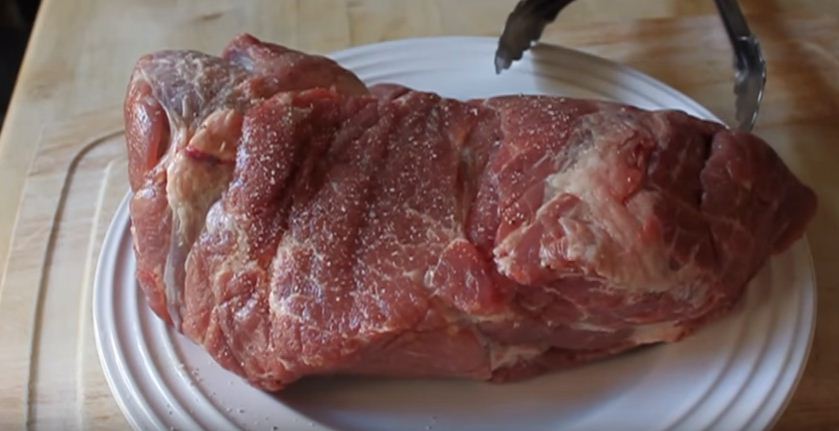 Instructions:
Season pork with salt and black pepper. Heat oil in a large skillet over high heat. Sear pork on all sides in the hot oil until browned, about 3 minutes per side. Transfer pork to the slow cooker.
Reduce stovetop temperature to medium; cook and stir shallots and celery in the skillet until they begin to soften, 3 to 4 minutes. Pour in apple cider vinegar and cook, scraping up any browned bits, until liquid is nearly evaporated, 4 to 5 minutes.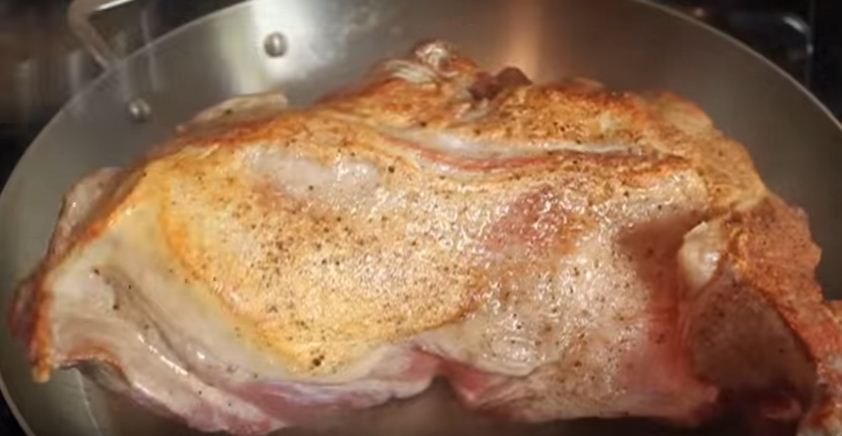 Pour shallot mixture over pork shoulder in the slow cooker. Add apple cider, garlic cloves, and bay leaf. Cover, set slow cooker to Low, and cook until fork-tender but not falling apart, about 6 hours. Turn pork over every 1 to 2 hours. Remove pork roast to a plate and cover loosely with foil.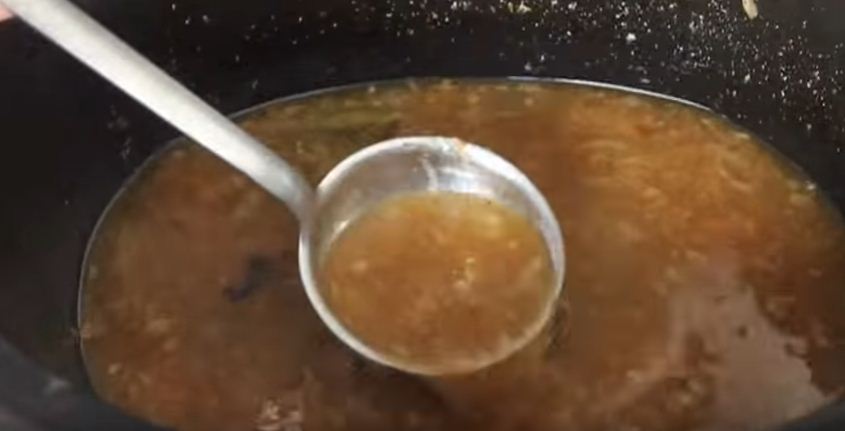 Pour remaining liquid from the slow cooker through a fine mesh strainer into a large saucepan; place over high heat. Discard bay leaf and other solids. Bring sauce mixture to a boil, decrease heat and cook, skimming fat from the top, until reduced to 1/4 of the original volume, about 10 minutes.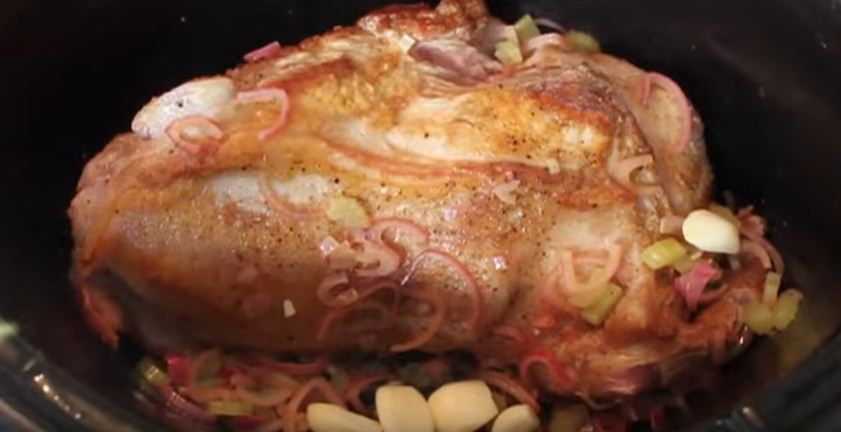 Remove sauce from heat and stir in Dijon mustard and cayenne pepper. Slowly whisk in cold butter until incorporated. Sprinkle in fresh herbs and season with salt and black pepper to taste.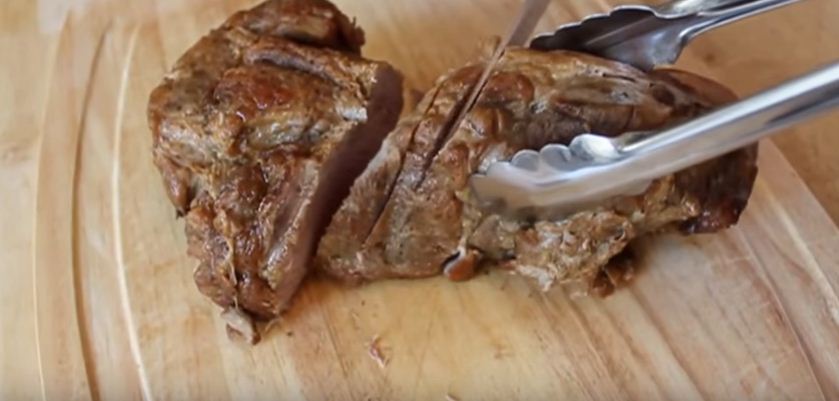 Cut pork into 1/4-thick slices and serve with sauce poured over the top.