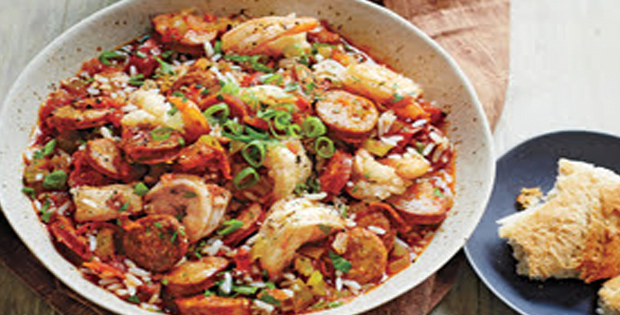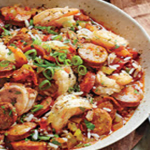 Yield: 8-10
Prep Time: 15 minutes
Cook Time: 4h 25 min
Print
Slow Cooker Andouille Sausage Jambalaya with Shrimp
Putting some fancy twist on cooking a traditional Jambalaya.
I have always mentioned o all of you how I love experimenting with food and how I love trying new ways of cooking traditional or classic recipes. Although the classic or the original will always remain as the best, it can never hurt to be a bit adventurous with cooking.
And one example is this oh so delicious Slow Cooker Andouille Sausage Jambalaya with Shrimp recipe. Instead of cooking the rice with the jambalaya liquid, cooked rice is added at the end of the process. Don't worry as it is still amazingly delicious.
Check out the recipe below.
Slow Cooker Andouille Sausage Jambalaya with Shrimp
Instructions
Cook sausage in hot oil in a large skillet over medium-high heat, stirring often, 5 minutes or until browned.
Remove sausage with a slotted spoon, reserving drippings in skillet. Drain sausage on paper towels, and place in a 5-qt. slow cooker.
Add onion, celery, and bell pepper mix; garlic; Creole seasoning; and thyme to hot drippings.
Sauté 5 minutes or until vegetables begin to soften. Place in slow cooker, and stir in tomatoes and chicken broth. Cover and cook on LOW 4 hours.
Cook rice according to package directions. Stir cooked rice and shrimp into sausage mixture in slow cooker; cover and cook on HIGH 15 minutes or until shrimp turn pink.
Top with parsley, green onions, and, if desired, hot sauce.
If my hubby is craving for this, I end having to make a set without the shrimp to prevent him having allergy attacks. It may not taste the same without the shrimp but it still tastes delicious, quite different but delicious.
So don't be afraid if you need to make a bit of alteration. It might just be as good or even better than the original.
Happy Slow Cooking!
A huge thank you to myrecipes.com for this awesome recipe.