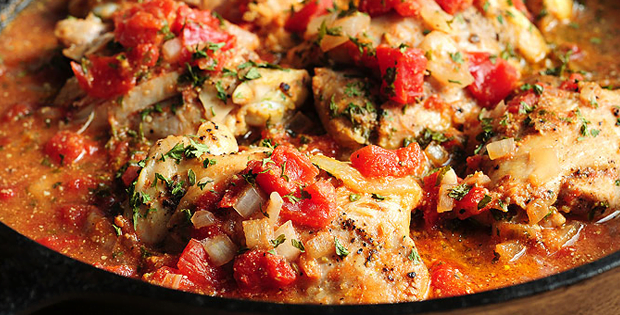 A very simple yet restaurant-worthy slow cooker chicken dish.
This may be one of the simplest recipes you can make and still have a dish that you think you can only have in restaurants. Those you serve this to will even think you spent so much time in the kitchen preparing the dish, when in fact you will barely sweat while cooking this.
The herb-infused tomato and wine sauce is the best part of this dish. It actually penetrates in the chicken thighs that the flavors are not only when you add the sauce but also when you bite the chicken. It can make its way in to the meat especially with the help of your slow cooker. Slow cooking allows both the sauce and the chicken to cook well enough. Cook it a little longer and the chicken will eventually melt in your mouth once you eat it.
The recipe will have a whole lot of sauce, which is my favorite as I like pairing it with mashed potato or rice. You can even add a few steamed veggies to it to complete the dish according to your liking.
Check out the recipe below.
---
Slow Cooked Wine & Tomato Braised Chicken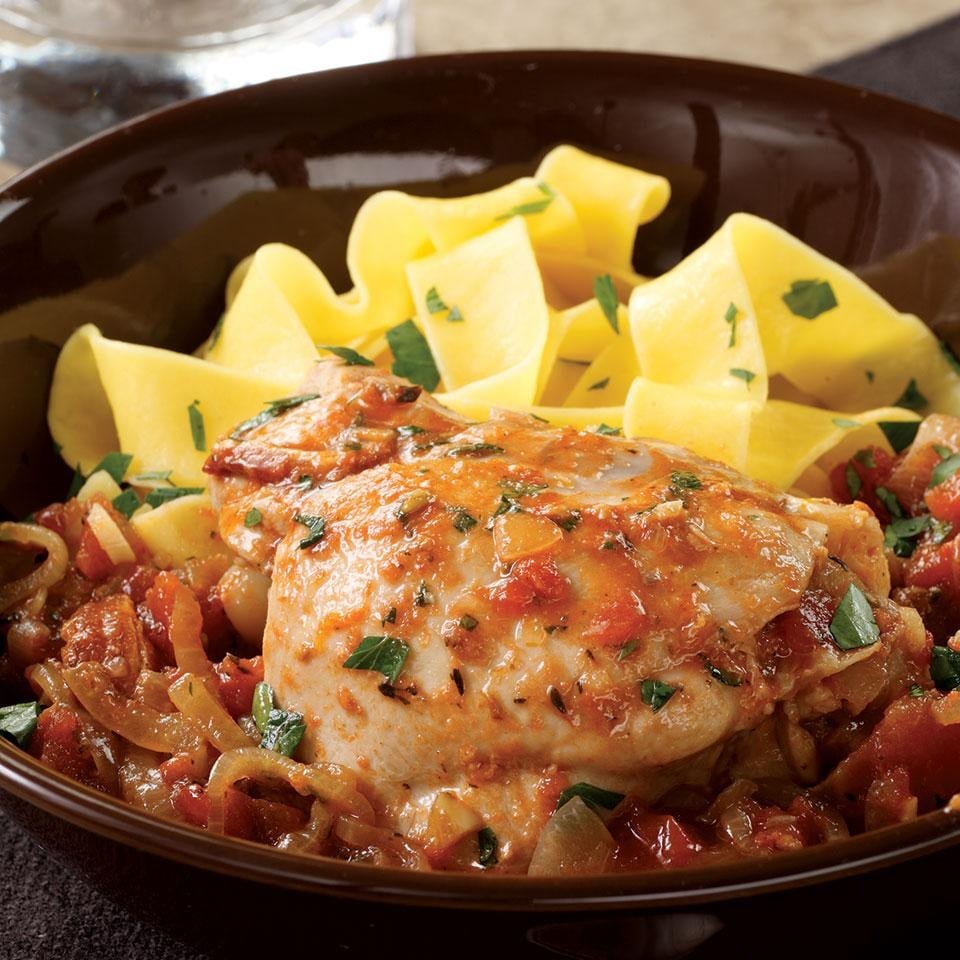 Ingredients:
4 slices bacon
1 large onion, thinly sliced
4 cloves garlic, minced
1 teaspoon dried thyme
1 teaspoon fennel seeds
1 teaspoon freshly ground pepper
1 bay leaf
1 cup dry white wine (see Tip)
1 28-ounce can whole tomatoes, with juice, coarsely chopped
1 teaspoon salt
10 bone-in chicken thighs (about 3 3/4 pounds), skin removed, trimmed
1/4 cup finely chopped fresh parsley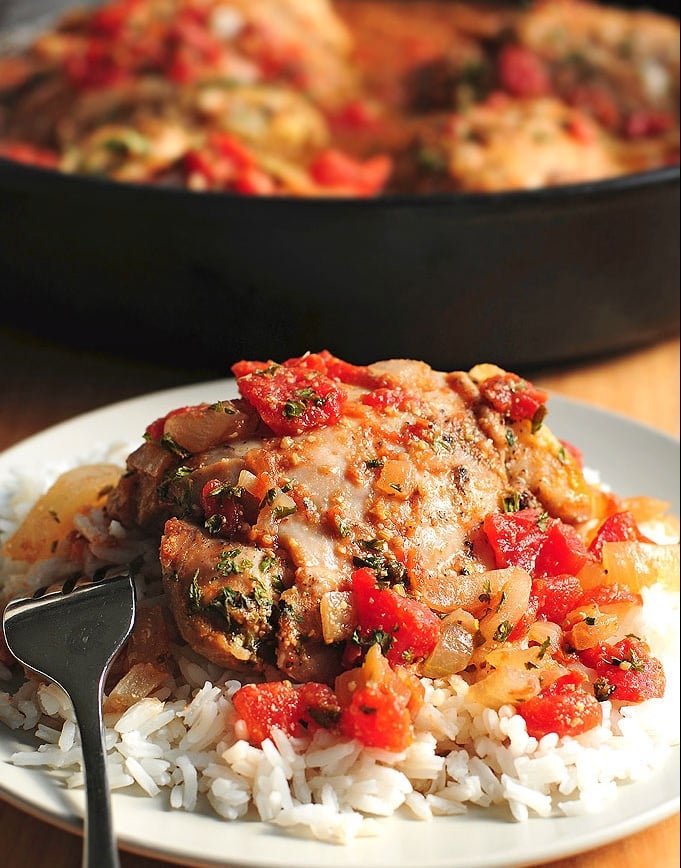 Instructions:
Cook bacon in a large skillet over medium heat until crisp, about 4 minutes. Transfer to paper towels to drain. Crumble when cool.
Drain off all but 2 tablespoons fat from the pan. Add onion and cook over medium heat, stirring, until softened, 3 to 6 minutes. Add garlic, thyme, fennel seeds, pepper and bay leaf and cook, stirring, for 1 minute. Add wine, bring to a boil and boil for 2 minutes, scraping up any browned bits. Add tomatoes and their juice and salt; stir well.
Place chicken thighs in a 4-quart (or larger) slow cooker. Sprinkle the bacon over the chicken. Pour the tomato mixture over the chicken. Cover and cook until the chicken is very tender, about 3 hours on High or 6 hours on Low. Remove the bay leaf. Serve sprinkled with parsley.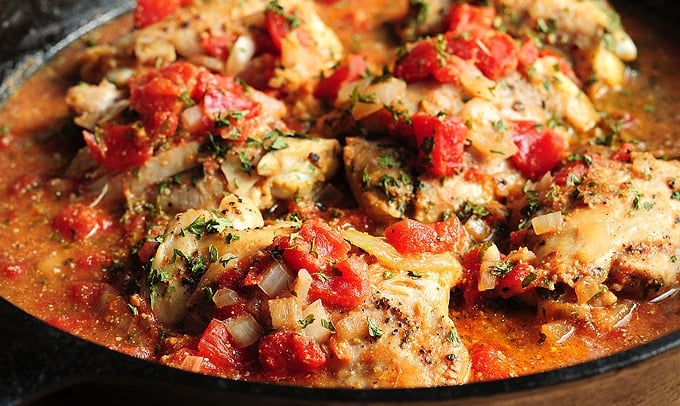 Variation: Turn 2 cups each of leftover chicken and sauce into Braised Chicken Gumbo. Heat 1 tablespoon extra-virgin olive oil in a large saucepan over medium heat. Add 1 diced medium red or green bell pepper and 2 tablespoons all-purpose flour and cook, stirring, until the pepper is beginning to soften and the flour is golden brown, about 2 minutes. Add 2 cups shredded chicken, 2 cups sauce, 2 cups reduced-sodium chicken broth, 1 cup sliced okra (fresh or frozen, thawed), 3/4 cup instant brown rice (see Tip) and 1/8-1/4 teaspoon cayenne pepper. Bring to a boil. Reduce the heat and simmer until the flavors meld and the okra is tender, about 10 minutes.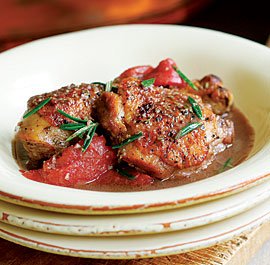 Tip: If you want to use rice that is not "instant," stir in 1 cup of any leftover cooked rice instead. Or, if you have time, add 1/2 cup of quicker-cooking whole-grain rice, such as Bhutanese red rice or Kalijira rice, and an additional 1 1/4 cups of chicken broth before adding the okra. Cook until the rice is almost tender, about 25 minutes (or according to package instructions) then add the okra and simmer until it is tender.
Make Ahead Tip: Prepare Steps 1 & 2, cover and refrigerate bacon and sauce separately for up to 1 day. To finish, bring the sauce to a simmer and continue with Step 3. The cooked chicken and sauce can be refrigerated for up to 3 days.
Equipment: 4-quart or larger slow cooker
Tip: If you prefer, substitute 1 cup reduced-sodium chicken broth mixed with 1 tablespoon fresh lemon juice for the wine.
For easy cleanup, try a slow-cooker liner. These heat-resistant, disposable liners fit neatly inside the insert and help prevent food from sticking to the bottom and sides of your slow cooker.
A very big thank you to eatingwell.com for this super delicious recipe.
Credits to the following for the amazing images:
shewearsmanyhats.com