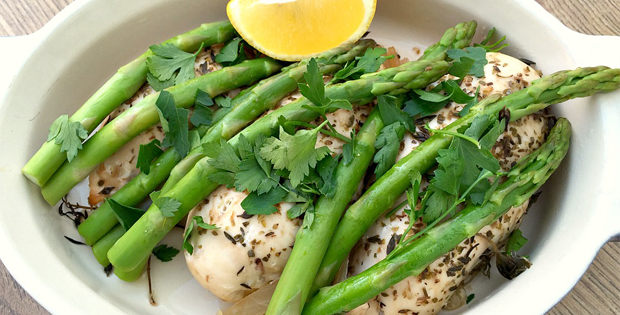 A slow cooked dish you can prepare as a part of your health eating plan.
I have been craving for chicken for the past 3 days and it's making me go crazy. Well, the first thing that came into mind was a spicy KFC chicken. Sounds super unhealthy, I know. But then again, I suddenly remembered all the chicken recipes I have saved using a slow cooker.
It mad me crave for chicken even more and even made me want to be a master chef. So here is one recipe that is very easy to make and healthy one as well. I adore how the chicken in this recipe is cooked on a bed of chopped onions. It is perfectly and gently slow cooked with different herbs and the freshest lemon juice.
The simplicity of the recipe is what makes it really tastes good. It is best paired with steamed veggies and you can have brown rice with it instead of white rice for a healthier meal.
Check out the recipe below
---
SLOW COOKER LEMON AND HERB CHICKEN WITH ASPARAGUS

Ingredients:
1 brown onion, sliced
4 chicken breasts
1-2 tsp dried oregano
several sprigs of fresh thyme
juice of half a lemon
100 g asparagus
lemon and parsley to serve
Click on the NEXT button below for the instructions.