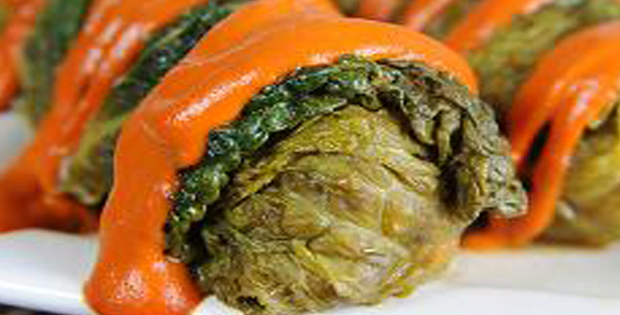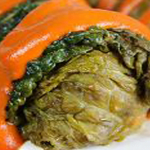 Prep Time: 10 minutes
Cook Time: 2h 15 min
Print
Scrumptious Barley-Stuffed Cabbage Rolls With Pine Nuts And Currants
Enjoy a slow cooked dinner meal that you can start way ahead of time.
Thinking of having something hearty and delicious to serve for dinner? Do you want to prepare it at least the night before to save you time the following day? Then this slow cooker recipe is the one for you.
These cabbage rolls are actually to die for and you would be craving for them every once in a while. One technique in preparing cabbage is to trim away part of the thick center from the leaves. This will make the cabbage easier to roll up. And using the slow cooker you could cook the rolls on low for six to hours, which will give you enough time to do other things in preparation for dinner.
Check out the recipe below.
Slow Cooker Barley-Stuffed Cabbage Rolls With Pine Nuts And Currants
Instructions
Steam cabbage head 8 minutes; cool slightly. Remove 16 leaves from cabbage head; discard remaining cabbage. Cut off raised portion of the center vein of each cabbage leaf (do not cut out vein); set trimmed cabbage leaves aside.
Heat oil in a large nonstick skillet over medium heat. Add onion; cover and cook 6 minutes or until tender. Remove from heat; stir in barley and next 4 ingredients (through parsley). Stir in 1/4 teaspoon salt and 1/8 teaspoon pepper.
Place cabbage leaves on a flat surface; spoon about 1/3 cup barley mixture into center of each cabbage leaf. Fold in edges of leaves over barley mixture; roll up. Arrange cabbage rolls in bottom of a 5-quart electric slow cooker.
Combine the remaining 1/4 teaspoon salt, remaining 1/8 teaspoon pepper, apple juice, vinegar, and tomatoes; pour evenly over cabbage rolls. Cover and cook on high 2 hours or until thoroughly heated.
This is a healthy scrumptious dish you can prepare for regular days and special occasions. And the presentation is just divine. This is the kind of dish that no one can say no to. Hope you like it.
Happy slow cooking!
A very big thank you  to the recipeofhealth.com, myrecipes.com, and blog.foodily.com for sharing this recipe.