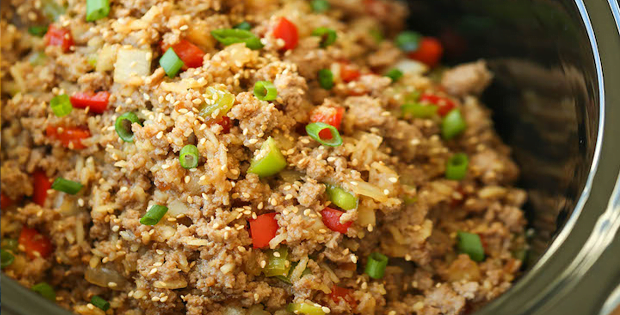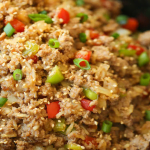 Yield: 3-4
Prep Time: 15 minutes
Cook Time: 4h 00 min
Print
Saucy Slow Cooker Teriyaki Chicken And Rice
Chicken, veggies and rice all put easily together in a crock pot!
My kids are crazy about having rice at least twice a week. So it has been a weekly routine to do so. They eat more than the usual when we have rice around. And of course it would be nice to make them eat a little more veggies together with the rice.
Well this recipe is an all-in-one dish. You have the rice, veggies and chicken. And it is so tasty that you won't have problems serving this to picky guests or kids if you have any. The teriyaki sauce is what makes this dish so flavorful! And you will appreciate teriyaki more with this dish, and you will learn to appreciate it if you are not a teriyaki type of person.
Check out the recipe below.
Slow Cooker Teriyaki Chicken And Rice
Instructions
Heat olive oil in a saucepan over medium high heat. Add ground chicken and cook until browned, about 3-5 minutes, making sure to crumble the chicken as it cooks; drain excess fat.
Place ground chicken, bell peppers, onion, water chestnuts and rice into a 6-qt slow cooker. Stir in teriyaki sauce.
Cover and cook on low heat for 3-4 hours or high heat for 1-2 hours.
To serve, spoon several tablespoons of the chicken mixture into the center of a lettuce leaf, taco-style, garnished with green onions and sesame seeds, if desired.
You can use your own teriyaki recipe if you prefer making a homemade sauce but you can always use the bottled ready-made teriyaki sauce you can get in any grocery store. Either ways, I'm sure it will turn out as delicious as it should be. So try it out now and tell me what you think.
A huge thank you to damndelicious.net for this delicious recipe.