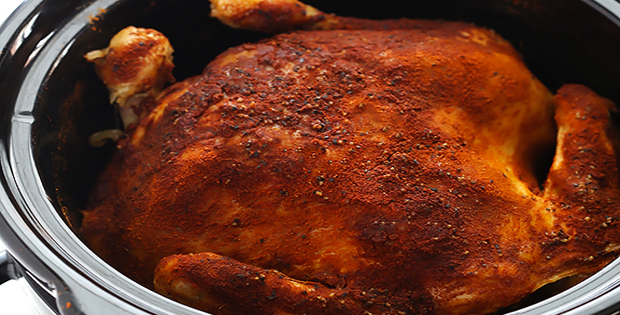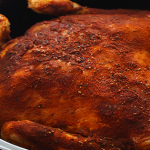 Yield: 4-6
Prep Time: 5 minutes
Cook Time: 4h 00 min
Print
Perfectly Seasoned Crock Pot Rotisserie Chicken
A whole chicken cooked rotisserie style in our favorite slow cooker.
Who doesn't love chicken? There are just thousands of recipes that you can do with a simple chicken. And here I have one of the simplest recipes anyone could do with a chicken, Rotisserie Chicken.
The best part about this is that you can cook it without a rotisserie oven. You just need a slow cooker for it. And yes, you read it right. You can use a slow cooker to cook this delicious whole chicken.
Check out the recipe below and then go and try it out.
Crock Pot "Rotisserie" Chicken
Instructions
Rinse the chicken thoroughly and pat it dry with paper towels.
In a small bowl, whisk together the paprika, salt, pepper, garlic powder and onion powder until combined. Rub the seasoning mix all over chicken -- on the outside skin, the inside cavity, and (if you're feeling brave) on the chicken breasts underneath the skin.
Roll up a few small balls of aluminum foil (or thickly slice some onions, and/or veggies) place them on the bottom of your slow cooker bowl to serve as a "rack" for the chicken, so that it doesn't have to cook in the juices that will accumulate in the bottom of the slow cooker.
Place the chicken on top of the aluminum foil (or veggies), pressing it down a bit if need be for the lid to fit.
Cover and cook on low for 6-8 hours, or on high for 4-5 hours until the chicken is cooked through and reaches an internal temperature of 160 degrees F.
Carefully remove the chicken from the slow cooker (it may be so tender that it falls apart on you), discard the bones, and serve the chicken as desired.*This is with a small 3-quart slow cooker, and the chicken just barely fit.  (It also shrunk down a bit while cooking.)
This awesome dish will only take a few minutes to prepare and your slow cooker will do the rest while you work on other things. You won't need to worry about flavor as the seasoning will definitely give you a great result.
You can definitely use a bigger slow-cooker, if you have one with a larger capacity.
This is all. Now go and put this recipe to the test, and let us know how it turned out and just how much you liked it.
And if you liked this recipe, then we definitely recommend the Cashew Chicken Recipe. It tastes like heaven, and can be the perfect dish to impress your friends and family with.
Resource: gimmesomeoven.com, food.com, savingyoudinero.com