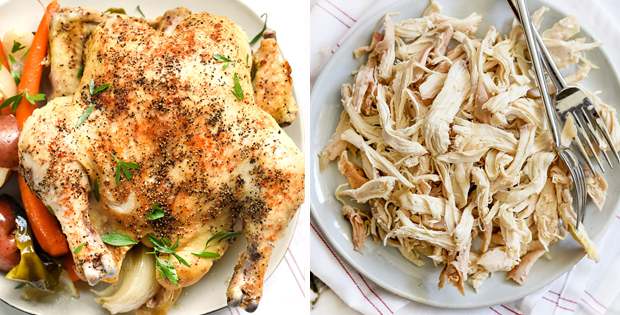 A great way to cook a whole scrumptious chicken.
Can't get enough of chicken recipes or dishes? I, myself, need to have a chicken dish or two in a week. Not only because It s one of the easiest meat ingredient to use (this is my personal opinion), but also because my kids and hubby are practically crazy about chicken, specifically fried chicken.
But I wouldn't want them to always have oil in their system due to the frying and frying. We are in this slow change in our menu to make it somewhat healthier in every meal, every day. This is one of the many things we can do to keep our children healthier especially when they are with us and if we get a chance to prepare a good meal for them.
Of course, it doesn't mean that I won't be sharing other sinful slow cooked dishes with you all. I know that I can't make everybody do what we are doing, so each his own. But my main aim is to help everyone get the best recipes that you can prepare with your slow cooker. So going back, here is one chicken recipe that you will definitely love as much as my family does.
Check out the recipe below.
---
Slow Cooker Whole Chicken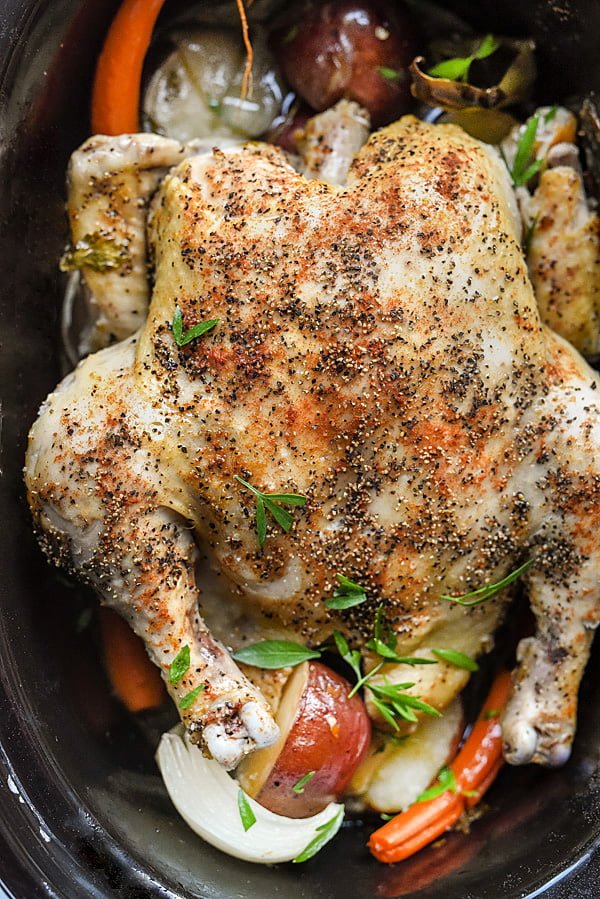 Ingredients:
1 5 pound chicken, giblets removed
1 tablespoon kosher salt
½ teaspoon paprika
Freshly ground black pepper
8 ounces baby carrots or whole peeled carrots chopped into 2-inch pieces
4 large red potatoes, halved
1 yellow onion, peeled and quartered
1 anaheim pepper, halved and seeded
6-8 cloves garlic, peeled and smashed
Handful of Italian flat leaf parsley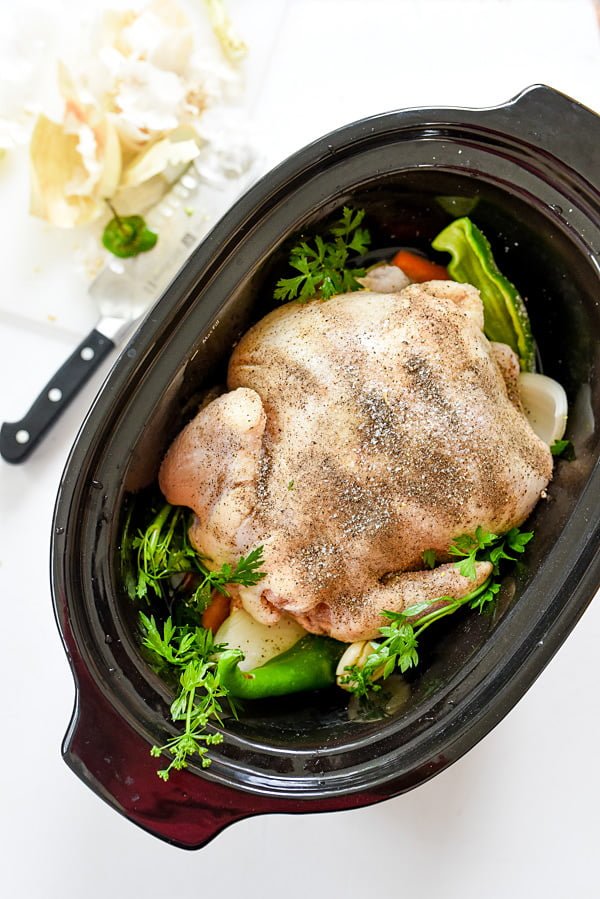 Instructions:
Rinse the chicken well and pat dry. Mix the kosher salt and paprika together and season the chicken generously with the kosher salt mixture and freshly ground black pepper.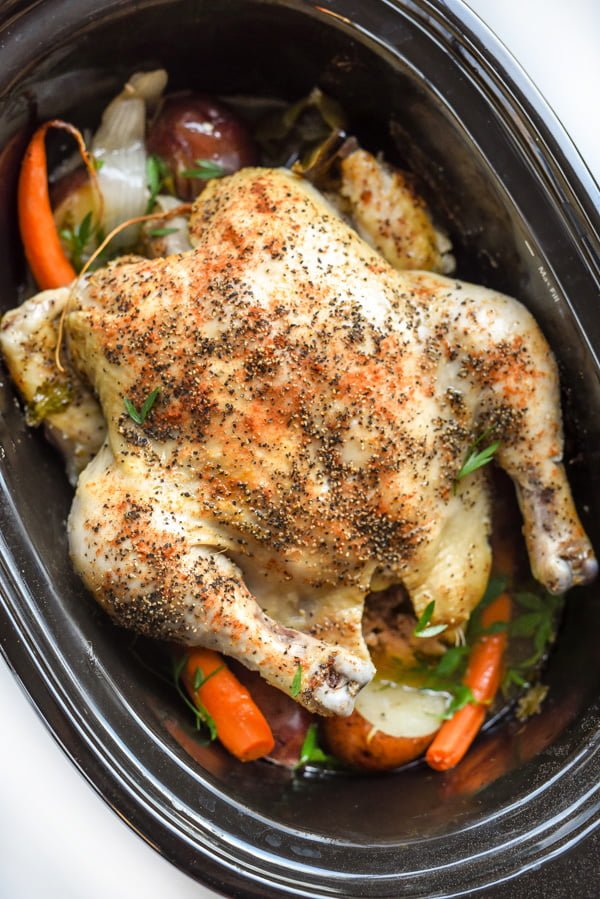 Scatter the vegetables in the bottom of a 6 quart slow cooker then place the seasoned chicken on top of the vegetables so they act as a shelf for the chicken.
Cook on high for 4-5 hours or low for 8-9 hours, or until the internal temperature reaches 165 degrees F and the juices run clear.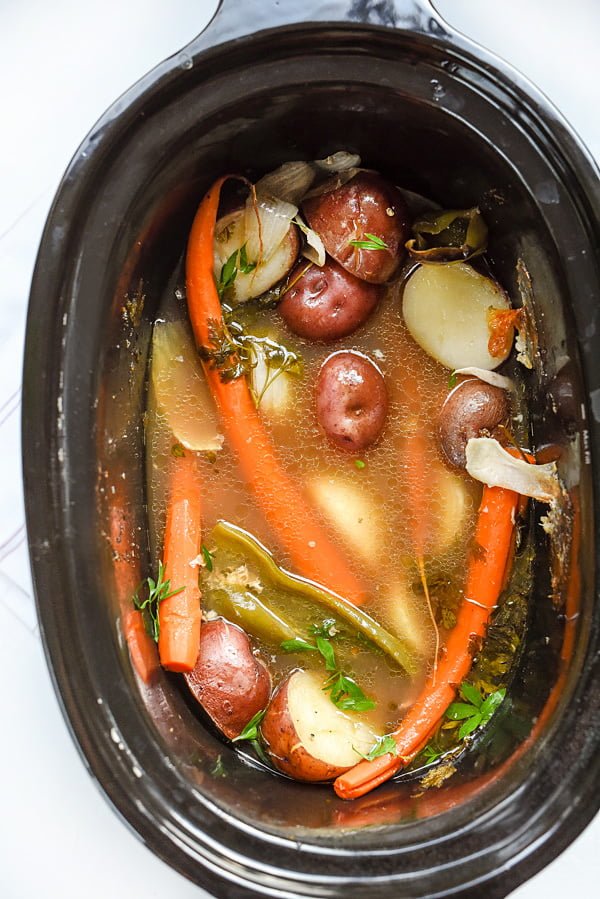 Remove the chicken from the stock and let the chicken rest for 5-10 minutes. If serving immediately, cut the chicken into pieces. You can serve the vegetables with the chicken or strain the vegetables from the broth and save the broth for up to 1 week in the refrigerator or freeze for up to 3 months.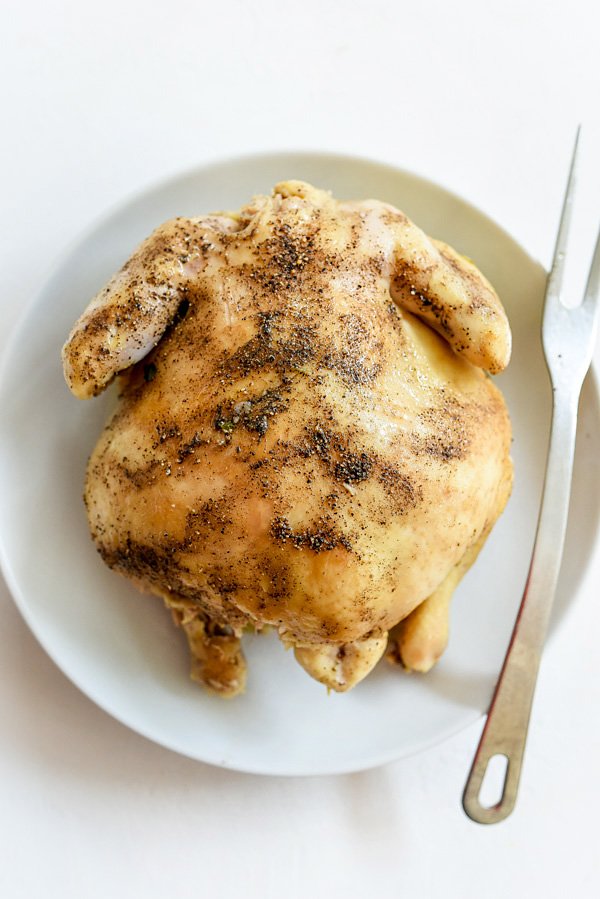 Or if you want shredded chicken, allow the chicken to cool for about 15 minutes then shred with two forks and refrigerate for up to 3 days.
A very big thank you to Heidi of foodiecrush.com for this amazing recipe.