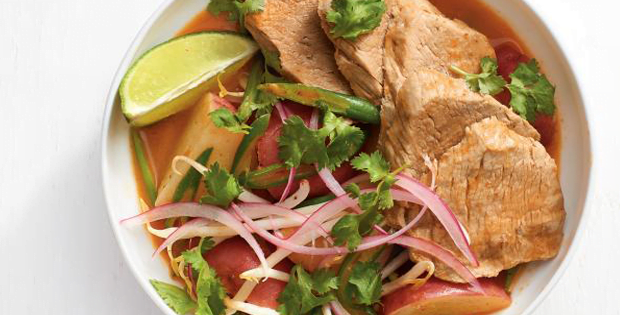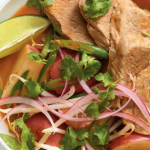 Yield: 4
Prep Time: 25 minutes
Cook Time: 7h 10 min
Print
Hot And On A Roll With This Slow Cooker Pork Curry
Enjoy an authentic Asian inspired pork dish with the help of your slow cooker.
My hubby truly adores a good curry recipe. This is one type of dish that I can not do without on a weekly basis. He is just crazy about curry. Although, I am not a big fan, cooking it for him makes me happy, especially when he really enjoys eating it.
And this is one of his favorite curry dishes. Since he is allergic to seafood, I have to limit recipes to chicken, pork or fish. You will definitely enjoy the aroma of the spices while preparing it. And it gives you that Asian vibes in your kitchen.
Check out the recipe below.
Slow Cooker Pork Curry
Instructions
Toss the pork with the curry powder, 1 teaspoon brown sugar, the lime zest and a generous pinch each of salt and pepper in a large bowl; set aside. Put the potatoes in a 6- to 7-quart slow cooker and top with the cilantro stems and half of the red onion slices.
Whisk the coconut milk with 1/4 cup water and the curry paste in a small bowl. Pour into the slow cooker. Add the pork and nestle into the vegetables and sauce. Cover and cook on low, 7 hours.
Transfer the pork to a cutting board; let rest. Stir the green beans into the slow cooker and let stand, uncovered, 10 minutes. Toss the remaining red onion with the lime juice in a small bowl and let stand 10 minutes. Stir the remaining 1 teaspoon brown sugar into the curry sauce and season with salt and pepper.
Divide the green beans, potatoes and sauce among bowls. Slice the pork and add to the bowls. Top each serving with the onion and any remaining lime juice in the bowl, the bean sprouts and cilantro leaves. Serve with lime wedges.
If you are a curry lover as well, don't forget to comment your thoughts on this recipe below. Also, the rate the recipe according to your liking. I would love to hear from you and try out adjustments if you have any.
Happy slow cooking!
A very bog thank you to foodnetwork.com for this amazing recipe.