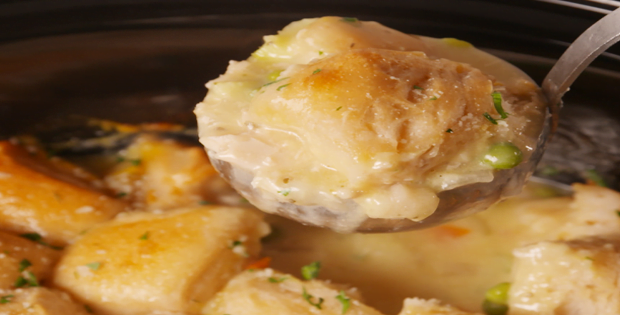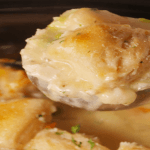 Prep Time: 10 minutes
Cook Time: 4h 00 min
Print
Here's The Scoop On How To Cook The Best Crock Pot Chicken And Dumplings
Another slow cooker (chicken) comfort food at its very finest.
Yes, here I have another chicken recipe. And I am sure you are still not tired of chicken as you are on this page already trying to find the full recipe.
You can add this to your list of comfort food  for long tiring days. This recipe gives you that completely satisfying home-cooked dish which is also (as any other slow cooker dish is) very easy to make.  This is definitely the perfect meal to end your day.
Check out the recipe below.
Crock Pot Chicken And Dumplings
Instructions
To the bowl of a large slow cooker, add onion in an even layer in the bottom of the bowl and place Tyson Boneless Skinless Chicken Breasts on top. Add oregano and season with salt and pepper.
Pour soup and chicken broth on top then add the thyme and bay leaf. Cover and cook on high for 3 hours, or until the chicken is cooked through.
Discard thyme and bay leaf, then shred the cooked chicken with two forks. Stir in celery, carrots, peas and garlic.
Cut biscuits into small pieces. Top the chicken mixture with the biscuits and cook on high for another hour, until the vegetables are tender and the biscuits are cooked through and chicken reaches an internal temperature of 170° F.
Garnish with Parmesan and parsley and serve.
If this recipe has tickled your senses, do share us your thoughts by leaving a comment below and rating the recipe. I would love to know what you think and how your dis turned out.
Happy slow cooking!
A very big thank you to delish.com for this delicious recipe.