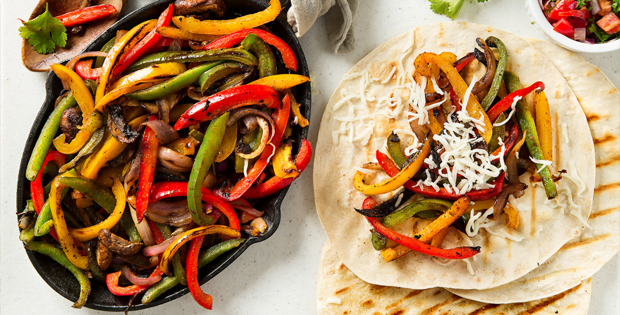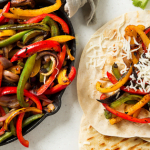 Yield: 8
Prep Time: 15 minutes
Cook Time: 4h 00 min
Print
Healthy And All Veggie Crock Pot Vegetarian Fajitas
Take time out from all the meat ingredients and enjoy a plant based dish with this recipe.
Let's have a little timeout from all the meat-based dishes we have been cooking the past few days. I am not saying that the past few recipes are healthy. They actually are but it would be nice to sometimes have something all plant-based.
And this recipe just does that. This fajitas recipe is mix of most colorful bell pepper, chilies, onions and tomatoes is absolutely amazing. The colors, the amazing aroma, the flavor are add up perfectly.
Check out the recipe below.
Crock Pot Vegetarian Fajitas
Instructions
Spray crockpot with a thin coating of non-stick spray.
Add all of the above ingredients to the crockpot and mix with a large spoon until all vegetables are coated with oil and spices.
Cook for 4-6 hours or LOW or 2 hours on HIGH.
Serve with warmed tortillas, black beans, avocado, and sour cream.
If you enjoy regular fajitas, you will definitely enjoy this as well. And the best part is, no matter how many fajitas you indulge yourself with, you will not have to worry about gaining weight.
The essential appliances for making this slow cooker fajitas include a slow cooker, a cutting board, a chef's knife, tongs, measuring cups and spoons, a can opener, and serving dishes. The slow cooker is the key appliance for making fajitas, as it allows you to simmer the meat and vegetables over several hours, which will help to develop rich flavors and tender textures. A cutting board and chef's knife are necessary for chopping up your vegetables and meat into small, bite-sized pieces, while tongs will make it easy to transfer the ingredients in and out of the slow cooker.
Happy slow cooking!
A very big thank you to thepieperlife.blogspot.com for this delicious recipe.