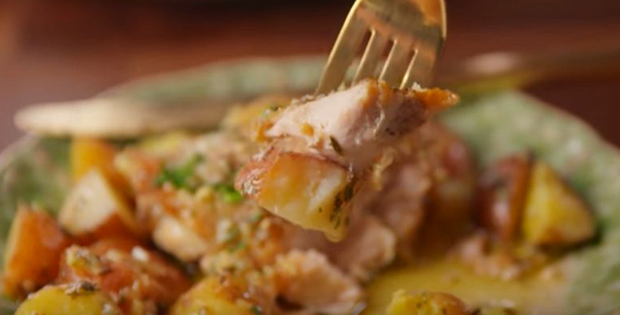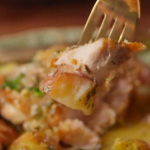 Yield: 4
Prep Time: 15 minutes
Cook Time: 4h 00 min
Print
Find Out Why This Slow-Cooker Garlic Parm Chicken Is Going Viral [VIDEO]
This recipe is making waves in the internet and it will make you go wow.
Chicken recipes are my hubby's and  kids' favorite thing in the whole wide world. And next to that is anything with cheese. So just imagine how excited they are whenever I have this dish prepared for them.
This is a very easy and great tasting chicken dish that even my hubby could make on his own. In fact, he has made this for me and the kids several time. And this dish is a great option for fancy dinners with the family or friends.
Check out the recipe below.
Slow-Cooker Garlic Parm Chicken Is Going Viral
Instructions
In a large skillet over medium-high heat, heat oil. Add chicken, season with salt and pepper, and sear until golden, 3 to 4 minutes, then flip and sear 3 minutes more.
Meanwhile, in a 6-quart slow-cooker, toss potatoes with olive oil, garlic, and thyme. Season generously with salt and pepper. Add chicken to slow cooker and toss gently, then cover and cook on high for 4 hours or low for 8 hours, until potatoes are tender and chicken is fully cooked.
Garnish with Parmesan and parsley and serve.
Try to add a little more of the grated parmesan if you are up for a cheesier outcome. And Don't worry about being a bit adventurous in the kitchen as it will help you a lot in coming up with your own recipes.

Watch the full recipe video.