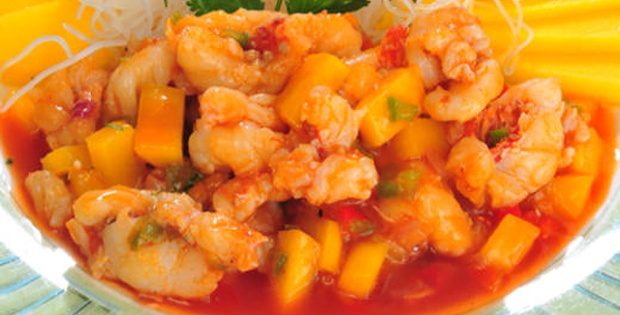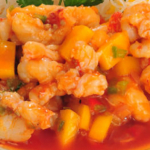 Yield: 3-4
Prep Time: 10 minutes
Cook Time: 5h 30 min
Print
Enjoy A Seafood Treat With This Slow Cooker Sweet And Sour Shrimp
A very easy sweet and sour shrimp recipe that makes seafood so appetizing.
How many slow cooker seafood recipes do you know of? Honestly, I find it a bit difficult gathering as many slow cooker seafood dishes as possible. But if I do, it simply is something to celebrate about.
Take this shrimp recipe for example. Not a lot of people may be that excited about this recipe, especially if they have seafood allergies like my husband, but I am sure once they get to try it they will certainly want more.
For this recipe, you can use frozen shrimp if fresh shrimp is not easily available. And it mixes so well with the pineapple, pea pods, and sweet and sour sauce mixture.
Check out the recipe below.
Slow Cooker Sweet And Sour Shrimp 
Instructions
Put pea pods in a colander and run cold water over them until partially thawed -- enough to separate easily. Drain pineapple, reserving 1/2 cup of the juice. Place pea pods and drained pineapple in slow cooker.
In a small saucepan, stir together cornstarch and sugar; add chicken broth, reserved pineapple juice, soy sauce, and ginger. Bring mixture to a boil, stirring, and cook sauce for about 1 minute. The sauce should be thickened and clear.
Gently blend sauce into pea pods and pineapple. Cover and cook on LOW for 3 to 4 hours. Add the thawed cooked shrimp; continue to cook 30 minutes longer, until heated through. Add vinegar and stir gently.
Serve with hot cooked rice.
The sweet and sour flavors of the shrimp give it an appetizing effect that you will enjoy. And I truly do hope you enjoy it. If you have seafood recipes kept around, feel free to share it with us and who knows, we might feature it here or for our future cookbooks.
Happy slow cooking
A very big thank you to thespruce.com for this seafood delight.