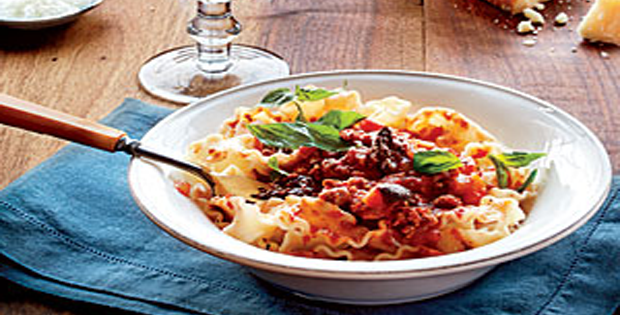 Serve the best pasta sauce ever, simmered to perfection.
This feel-good pasta sauce will work with any type of pasta. But if you want to put a twist on things or move away from the typical spaghetti pasta then you can  use Mafaldine. It is a flat noodle with ruffled edges that can be a great substitute for spaghetti.
The sauce which is simmered in the sow cooker has much more flavors bursting in your pasta dish that the regular sauce we cook in under 30 minutes or an hour. The slow cooker simmer makes it all magical.
Check out the recipe below.
---
Slow Simmered Meat Sauce With Pasta
Ingredients:
1 tablespoon olive oil
2 cups chopped onion
1 cup chopped carrot
6 garlic cloves, minced
2 (4-ounce) links hot Italian sausage, casings removed
1 pound ground sirloin
1/2 cup kalamata olives, pitted and sliced
1/4 cup no-salt-added tomato paste
1 1/2 teaspoons sugar
1 teaspoon kosher salt
1/2 teaspoon crushed red pepper
1 (28-ounce) can no-salt-added crushed tomatoes, undrained
1 cup no-salt-added tomato sauce
1 tablespoon chopped fresh oregano
16 ounces uncooked mafaldine pasta
1/2 cup torn fresh basil
3 ounces shaved fresh Parmigiano-Reggiano cheese
Go to the next page for instructions…