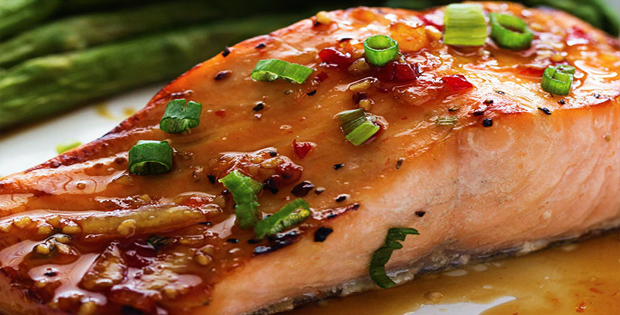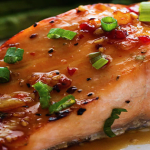 Yield: 4
Prep Time: 5 minutes
Cook Time: 1h 10 min
Print
Crock Pot Salmon With Sweet Chili Glaze
A fish recipe worthy to be in any five star restaurant.
The glaze on this slow cooked salmon is just divine. It makes me feel like I am having fancy dinner at one of Gordon Ramsay's restaurants. That is how amazing this salmon dish is.
The slow cooker helps caramelize the glaze perfectly as it broils with the salmon and you will smell it from all over your home. It is one of those recipe you will want to have over and over again.
Check out the recipe below.
Crock Pot Salmon With Sweet Chile Glaze
Instructions
In a shallow baking dish, combine sweet chili sauce, orange marmalade, and soy sauce. Whisk to combine and add minced garlic and green onions. Reserve ¼ cup of the marinade.
Sprinkle the salmon with salt and pepper and place facing down with the skin side up in the dish and allow to marinate for at least one hour.
Preheat the broiler and make sure the oven rack is 5-6 inches down and line a baking sheet with aluminum foil. Spray with cooking spray. Take the salmon out of the pan and shake off excess marinade. You don't want the marinade to pool up on the foil. Place the salmon fillets skin side down on top of the aluminum foil and broil for 6-10 minutes until browned and opaque in the center.
Pour the reserved sauce on top of the salmon before serving and garnish with green onions.
If you are not much of a fish-eater, you will definitely change your mind after trying this dish. This is a must try and a real keeper. Hope you enjoy it!
Happy slow cooking!
A very big thank you to therecipecritic.com for this delicious recipe.