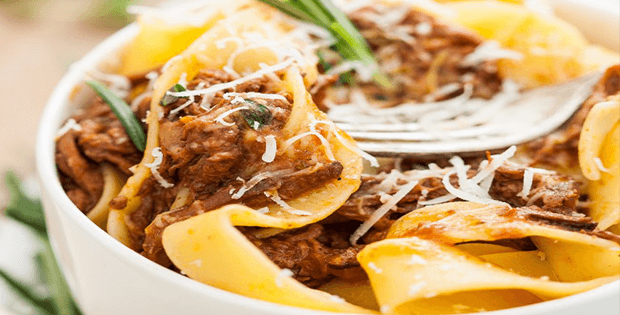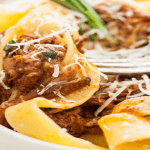 Yield: 4
Prep Time: 15 minutes
Cook Time: 12h 00 min
Print
Crock Pot Rustic Italian Beef Ragu
A very rich and satisfying beef dish you will enjoy with the best Italian flavors.
This rustic Italian dish is one that you should not skip on. The tomato sauce which is used as a base for the beef is just fantastic. The hours of cooking allows the flavors to penetrate deeply into the beef. And that is the beauty of having the slow cooker cook it.
And if you are not that good in the kitchen, you will certainly feel like an accomplished chef after cooking this. It is so easy to make and you can just leave it to cook, like any other slow cooker recipe.
Check out the recipe below.
Ingredients
Instructions
Chop onion, carrot and celery, mince garlic and chop rosemary and thyme and put everything on the bottom of a crock pot.
Cut roast into 2"-3" cubes and brown them in olive oil in a frying pan over high heat in stages, don't overcrowd the meat so it browns nicely. Add it to the vegetables.
Off the heat pour wine into the frying pan and use wooden spoon to loosen all the delicious bits from the bottom of the pan, that's where much of the flavour is concentrated. Pour the wine into the crock pot along with canned tomatoes.
Sprinkle barley all over, which will add texture and more flavour to your ragu, not to mention fibre and nutrients.
Add a teaspoon of salt and freshly ground pepper.
Cook on low for 10-12 hours.
In the last hour take the lid off and shred the beef with two forks, add one more tablespoon of fresh rosemary and thyme and a splash of water or wine if the meat is too dry.
Cook for one hour longer.
At the end of cooking time stir in butter for more flavour and to add a gloss to your ragu.
Before serving cook your pasta in a large pot of salted water according to package directions.
Combine 1/3 of beef ragu with hot pasta and sprinkle with freshly grated Parmesan cheese.
Freeze the rest of ragu for later use.
To best enjoy this dish top it on spaghetti or add it into your lasagna. And if you have leftovers you can just freeze it and have it when you start craving for more.
Happy slow cooking!
A very big thank you to vikalinka.com for this awesome dish!