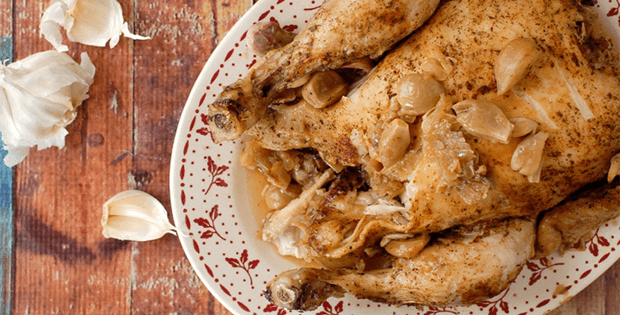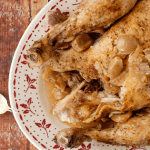 Yield: 4-6
Prep Time: 25 minutes
Cook Time: 9h 00 min
Print
Crock Pot Garlic Chicken, Roasted Cauliflower And Sautéed Green Beans
You can never fail with chicken and veggies for all kinds of occasion.
There are days that I feel so desperate trying to make my kids eat veggies for them to have a whole hearty meal. Thanks to several slow cooker recipes, I no longer need to worry about preparing several dishes which will be yummy and healthy at the same time.
This recipe is one example of a slow cooker dish that gives you the best of both, delicious and healthy. One thing I love about this is how tender the chicken is, which is also one of the reasons why my sons love having this for meals.
Check out the recipe below.
Ingredients
Instructions
Crock Pot Garlic Chicken:
Rub chicken with seasonings, inside and out.
Put chopped onion on the bottom of crockpot, add chicken on top, and sprinkle garlic cloves over it.
Turn crockpot on low for about 6-8 hours, until meat is pulling away from the end of drumstick. Serve with some juices and garlic from crockpot.
Roasted Cauliflower:
Heat oven to 350 degrees.
In a large bowl, toss cauliflower with the remaining ingredients and put on a baking sheet. Roast until browned, about 35-45 minutes, turning occasionally.
Sautéed Green Beans:
Heat a large skillet over medium-high heat and add oil.
Once oil is hot add the green beans, salt, and pepper. Saute, turning occasionally, until some brown appears on the beans, about 5 minutes.
Turn off heat and add lemon zest.
Oh I forgot to mention that this is totally gluten-free and a completely budget-friendly meal. This is perfect for family meals especially for kids.
Happy slow-cooking!
A very big thank you to boulderlocavore.com for this amazing dish.