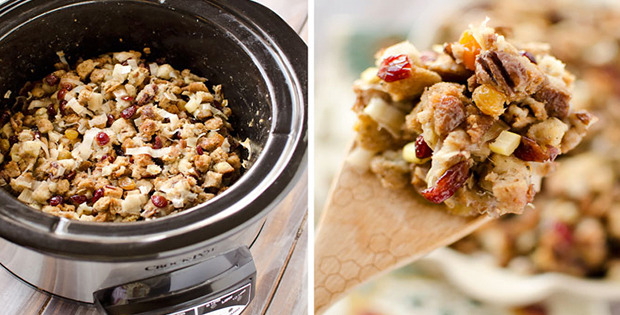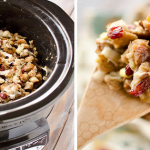 Yield: 12
Prep Time: 5 minutes
Cook Time: 3h 00 min
Print
Crock Pot Cranberry Pecan Stuffing
The lightest and most moist stuffing your slow cooker can ever make.
This is a recipe that will surely tickle your senses. Who would say no to a dish loaded with the sweetest cranberries and the crunchiest pecan? This is a perfect dish for holidays and that includes Thanksgiving.
It is so easy to make and such a light recipe that indulging yourself with it won't be a problem for your waist line at all. The flavors and texture is just heavenly. So just imaging it stuffed  into chicken or even turkey for your holiday meal.
Check out the recipe below.
Crock Pot Cranberry Pecan Stuffing
Instructions
Toss your cubed stuffing, leeks cranberries, raisins and pecans in a sprayed 5 quart Crock Pot.
In a medium bowl, whisk the chicken broth, melted butter, egg, ground mustard, salt and pepper.
Pour over the bread mixture in the Crock Pot and gently fold together.
Cook on low for 3-4 hours.
You will have to share with me what you think about this after trying it. I would love to know how it turned out for you. Don't forget to leave a comment below and rate this recipe too.
Happy slow cooking!
A big thank you to thecreativebite.com for this amazing recipe.