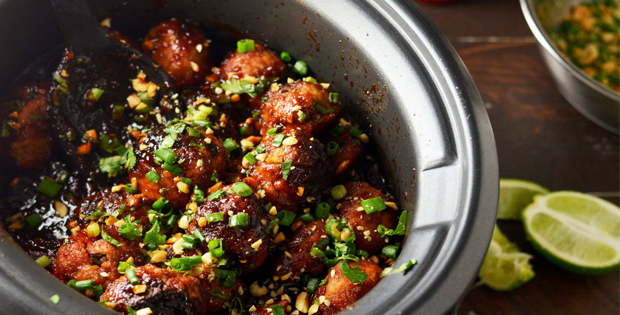 Gently cooked Thai Meatballs with flavors deepened and softened.
The one thing that I love about slow cooking is that the slow cooking process itself makes the dish much more flavorful that it already is. The long hours of simmer makes the flavors blend really well plus it allows any meat, chicken or pork to tenderize perfectly.
This special Thai recipe is a perfect example of how the slow cooker can do magic to your dishes. The slower and longer you cook the sauce, the tastier it becomes. What makes it more amazing is the combination of ginger, lemongrass and chilies that is added on the meatballs. And to have a brighter balance plus an added texture, some crushed peanuts, scallion and fresh lime juice can be used to top it off.
The aroma is just heavenly and once you take a bite, it will definitely take away on a gastronomic journey.
Check out the recipe below.
---
Slow-Cooker Sticky Thai Meatballs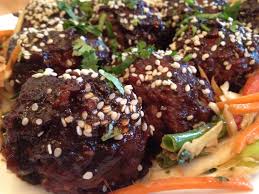 Ingredients:
4 stalks lemongrass, roughly chopped
3 medium shallots, roughly chopped
6 medium cloves garlic
3 medium jalapeños, seeded and minced
1 (3-inch) knob fresh ginger, peeled and cut into 1/2-inch (1.25-cm) pieces
3 tablespoons (45ml) Asian fish sauce
2 teaspoons (10ml) vegetable oil
1 cup (240ml) Thai chili sauce (see note above)
2/3 cup light brown sugar (160ml; 130g)
2/3 cup (160ml) soy sauce
1/2 cup (120ml) rice vinegar
1 cup (240ml) water
2 pounds (1kg) ground chicken
1 cup (240ml) panko bread crumbs, plus more if necessary
1 large egg
1/2 cup (120ml) thinly sliced scallion, white and light green parts only, divided
Kosher salt and freshly ground black pepper
1/4 cup (60ml) chopped cilantro leaves and tender stems
1/2 cup (120ml) chopped unsalted peanuts
2 tablespoons (30ml) fresh juice from 1 lime
Click on the NEXT button for the instructions.