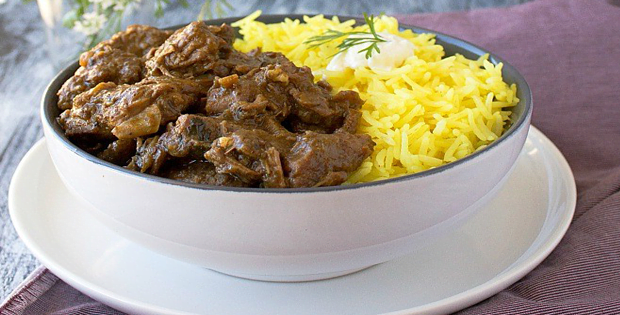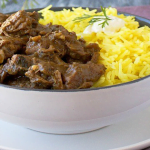 Yield: 6
Prep Time: 15 minutes
Cook Time: 6h 00 min
Print
An Aromatic And Scrumptious Slow Cooker Lamb Curry [VIDEO]
Prepare and cook a delicious lamb curry the easier and smarter way.
This is the perfect slow cooker version of a classic Indian cuisine. If you have been having consistent busy days, then you would need recipes like this. It is perfect for days wherein you don't have enough time to cook but would want to have a dish similar to what you would get from a restaurant.
I love how the kitchen ends up having an Indian kitchen aroma when cooking this dish. It makes me travel to Indian without spending for airfare and a hotel. The spices in it are just amazing and designed to pleased anyone you serve it to.
Check out the recipe below.
Slow Cooker Lamb Curry
Instructions
Fry lamb
Place lamb in a bowl or ziplock bag. Dust with flour. Shake off the excess flour.
Meanwhile heat 2 tbsp oil in a large wok or frying pan over high heat. Add lamb, and fry, stirring occasionally, for 6-7 minutes or until browned. (If the pan is small, fry in batches).Transfer lamb to the slow cooker. Set aside.
Lamb curry
Heat 1 tbsp oil in a frying pan over medium-high heat. Add onions, ginger and garlic. Sauté for 2-3 minutes or until lightly browned. Add turmeric, coriander, cumin, garam masala, paprika and red chili powder. Sauté, stirring, for few minutes. Add chicken stock. Bring to a boil. Cover and simmer for 2 minutes.
Transfer the sauce to the slow cooker. Add cinnamon stick, cardamom pods and bay leaves to the slow cooker. Season with salt. Add coriander (cilantro) leaves.
Cover slow cooker with the lid. Cook on low for 6 to 8 hours or on high for 5 hours.
Serve this slow cooker lamb curry with rice, roti or parathas.
This classic Indian lamb curry dish is definitely the perfect dish for a very hectic day. Not only is it easy to make but it is also a very delicious one indeed. This will be a favorite even for those who are not really fans of Indian dish. Hope you enjoy it. Don't forget to rate the recipe below and tell us what you think.
Watch the full recipe video.