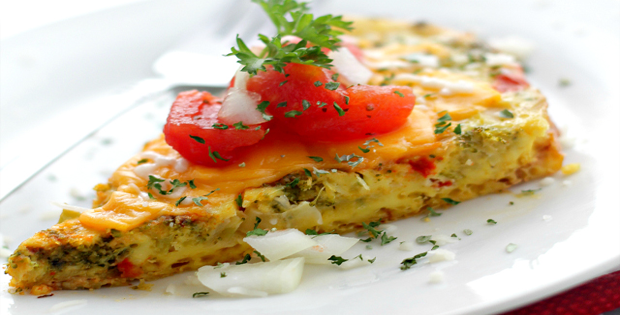 One of the easiest and yummiest slow cooker breakfast ever!
Here we are again with another egg-based slow cooker dish. This one, you should not say NO to. It is definitely one of those that you must cook even if you have kids around. Don't be deceived by the veggies on it. Your kids wouldn't mind once they get a taste of it.
It is so easy to make, as all you have to do is throw everything in the crock pot. And  it is a really great breakfast dish. My eldest son even gave his own name for the dish – "Pizza Egg". That's the only thing he needs to remember whenever he wants me to whip it up for him during school days.
Check out the recipe below.
---
Slow Cooker Veggie Omelette
Ingredients:
6 eggs
1/2-cup milk
1/4 teaspoon salt
fresh ground pepper, to taste
1/8 teaspoon garlic powder, or to taste
1/8 teaspoon chili powder, or to taste
1 cup broccoli florets
1 red bell pepper, thinly sliced
1 small yellow onion, finely chopped
1 garlic clove, minced
GARNISH
shredded cheddar cheese
chopped tomatoes
chopped onions
fresh parsley
GO to the next page for the instructions…