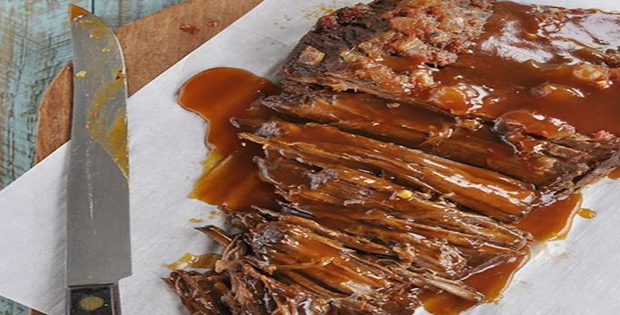 The perfect flavor combination of sweet and sour on a beef brisket.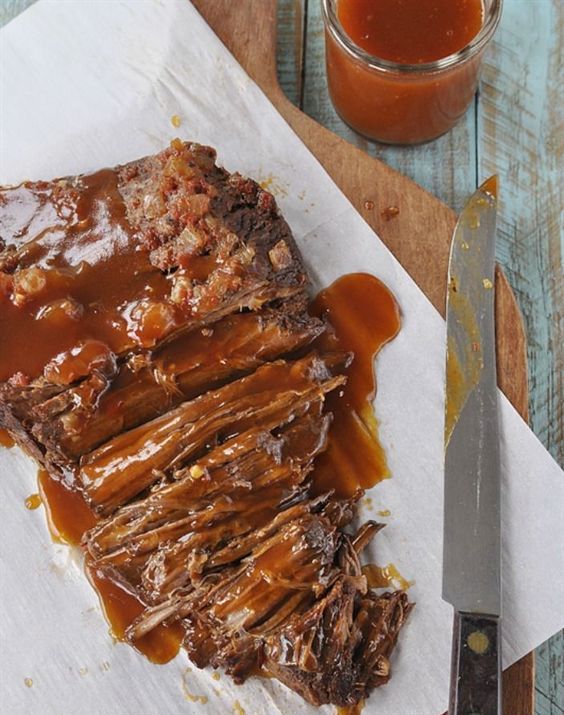 I can never say no to sweet and sour recipes. I just love the tangy flavor and the sweetness that goes with it. It really does not matter if it is fish, pork or chicken or even beef. This recipe is one of those that are classified under tangy and sweet and extra yummy.
Well, my hubby s not a very big fan of sweet and sour dishes especially fish, and he is not as much of a beef fan as well. So just imagine him trying a sweet and sour beef brisket dish. It was honestly a bit of a challenge convincing him to try it. But I was glad that he ended up loving it.
The beef is extra tender due to its hours in the slow cooker and the flavors were just perfect that you will end up going back for more. I highly recommend this dish if you have a special dinner coming up or if you have special guest visiting. Try it out and tell me what you think.
Check out the recipe below.
---
Slow Cooker Sweet And Sour Beef Brisket

Ingredients:
One 4-pound first-cut brisket
Kosher salt and freshly ground pepper
1 tablespoon vegetable oil
1/2 cup ketchup
1/2 cup lightly packed dark brown sugar
1/2 cup low-sodium chicken broth
2 medium onions, halved and thinly sliced
2 1/2 tablespoons red wine vinegar
Buttered egg noodles, for serving
Instructions:
Season the brisket with salt and pepper. In a very large skillet, heat the oil until shimmering. Cook the brisket over moderately high heat, turning once, until browned on both sides, about 10 minutes total. Transfer to a slow cooker.
In a medium bowl, mix the ketchup with the brown sugar, chicken broth, onions and 1 tablespoon of the red wine vinegar. Pour the mixture over the brisket. Cover and cook on low for 8 hours, until the brisket is tender.
Transfer the brisket to a cutting board and let stand for 5 minutes. Skim the fat from the sauce. Slice the brisket across the grain 1/4 inch thick and return the meat to the sauce. Cover and cook on high for about 1 hour, until the meat is very tender. Transfer the brisket to a warm platter. Add the remaining 1 1/2 tablespoons of vinegar to the sauce and season with salt and pepper. Serve the brisket with the sauce and with buttered egg noodles.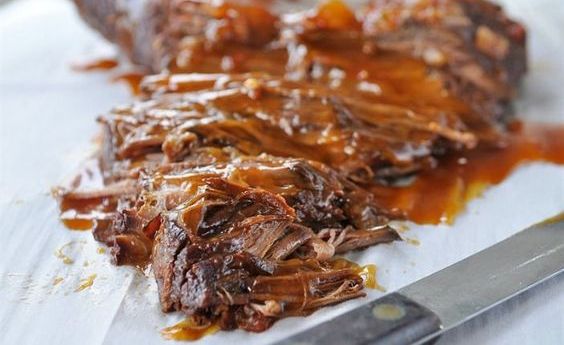 Make Ahead
The cooked brisket can be refrigerated in its sauce for up to 2 days before serving.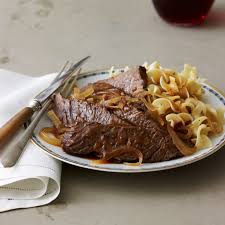 A very big thank you to foodandwine.com for this super delicious recipe.
Credits to yourhomebasedmom.com for the great images.