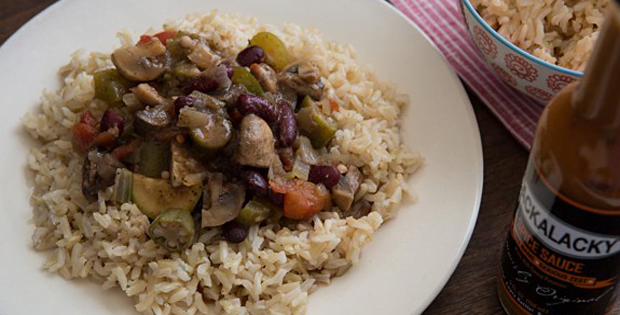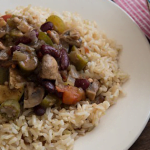 Yield: 4-6
Prep Time: 20 minutes
Cook Time: 8h 00 min
Print
A Super Healthy Slow Cooker Vegetarian Gumbo
A traditional vegetarian gumbo with an amazing twist to it.
I love how the original author of this recipe made this dish so enticing and super healthy. The best part is the author had an alternative ingredient that made the dish extra amazing and added okra in the mix. I love Okras and this is just completely incredible.
But you can always take the okra out if you are not a big fan of it. Switching the meat to veggies makes this stew a full meal of healthy goodness.
Check out the recipe below.
Slow Cooker Vegetarian Gumbo
Instructions
Heat 1 tablespoon of oil in a Dutch oven over medium heat. Add the onion, bell pepper, celery, and garlic and cook until softened and just beginning to brown, 8-10 minutes. Transfer veggies to a 4-6 quart slow cooker.
Return the Dutch oven to the stovetop and heat the remaining tablespoon of oil in it. Stir in the flour and cook, stirring constantly, until it's golden brown, about 4 minutes. Pour in the broth and bring to a boil; once the broth has come to a boil, transfer it to the slow cooker. Add all of the remaining ingredients to the slow cooker except the hot sauce and cooked rice.
Cover the slow cooker and cook on low for 6-8 hours. Once the gumbo has finished cooking, remove the bay leaf and add more salt and pepper to taste if needed. Serve over rice with hot sauce.
If you want some heat in it, you can use spices such as Cajun seasoning or hot sauce. You can add it separately for each individual you serve it to who wish to have a little spice in it.
This a great meatless option if you have friends who don't eat meat and if you want to have a healthy meal at home. So try it out now and tell me what you think. Don't forget to rate it too. Happy slow cooking.
A very big thank you to ohmyveggies.com for sharing this great recipe.